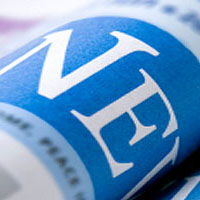 Valley Fourth, Harrisonburg's quintessential 4th of July celebration, is seeking entries for the Sentara RMH Orthopedics and Sports Medicine parade, one of the most anticipated events at the full-day festival. The parade will be held onSaturday, July 4 at 6:00 p.m. in downtown. The parade route travels South on Main Street, from the Rockingham County Administration Building to the City Municipal Building.
This year's theme is 'Get Outdoors and Get Moving'. "The parade is an opportunity to celebrate the breathtaking scenery right in our backyard and the endless opportunities to be active," says Katie Yount, Director of Events at Harrisonburg Downtown Renaissance.
Kevin Gibson and Alan Maynard, the guys behind VA Momentum, a group dedicated to organizing the Valley Fourth RUN and other active events in the community are this year's grand marshals of the parade. "We're psyched to play a part in this year's Valley Fourth Celebration through the run in the morning and as grand marshals in the parade that evening. The parade theme aligns with our mission, and is a powerful signal of how Harrisonburg's surrounding environment gives us a unique opportunity to pursue health and wellness. We hope that VA Momentum plays a small part in encouraging the community to get outdoors".
VA Momentum is all about energizing the community for good. Their active events support local businesses and charities and it's central to their mission that participants from all skill levels and backgrounds feel welcomed and encouraged.
Parade participants are encouraged to design a parade entry that displays a patriotic theme and/or promotes their favorite outdoor activities such as hiking, biking, or rafting. Entry forms are available at DowntownHarrisonburg.org/valleyfourth. The deadline for entries is June 26th.
In addition to the parade, Valley Fourth attendees can expect to enjoy a full day of activities, including the 3rd annual Grillin' at the Pavilion Cook-off, Beers 'N Cheers in the Park, live music, children's activities, a fireworks finale, and more!
Valley Fourth, organized and presented by Harrisonburg Downtown Renaissance, is the largest community celebration in Harrisonburg, drawing more than 13,000+ residents and visitors to downtown each year. All Valley Fourth activities are provided to the public thanks to the participation and cooperation of local businesses, organizations, and volunteers.
For more information about Valley Fourth, please call 540- 432-8909 or visit DowntownHarrisonburg.org/valleyfourth and Facebook.com/valleyfourth.