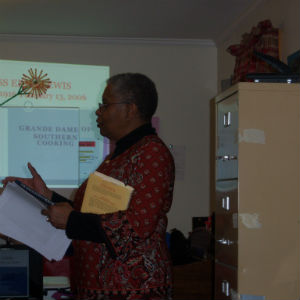 Perlista Henry and Joan Williams gave a presentation to the Bath Community Senior Center on Chef Edna Lewis, who was born in Orange, Virginia, and was the granddaughter of former slaves.
When her parents died, she left to find work, first in Washington, DC, and later in New York.  It was in New York that she put her culinary skills to use.  She became known at the Grande Dame of country cooking.  Mrs. Lewis preserved and revived the art of Southern cooking when she wrote three cookbooks and co-wrote a forth book with Scott Peacock.
In September of 2014, Edna Lewis was commemorated by the US Postal Service with a forever stamp along with four other famous Chefs.  Several of Mrs. Lewis' recipes were discussed and enjoyed at a Valentine Luncheon following the presentation.  It was a wonderful day of fun, food and friends!