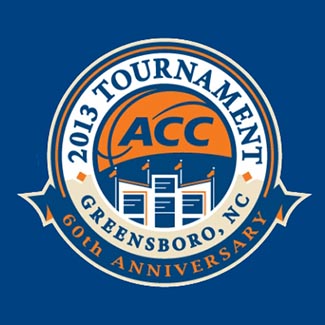 Seeding and first-round pairings have been finalized for the 60th annual Atlantic Coast Conference Basketball Tournament, which gets under way Thursday (March 14) at the Greensboro Coliseum.
Top-seeded Miami, second-seeded Duke, third-seeded North Carolina and fourth-seeded Virginia will receive opening-byes into Friday's quarterfinal round.
First-round play opens at noon on Thursday with eighth-seeded Boston College taking on ninth-seeded Georgia Tech. Thursday's 2 p.m. game places No. 5 seed NC State against No. 12 Virginia Tech. In the evening session, No. 7 Maryland faces No. 10 Wake Forest at 7 p.m., followed by No. 6 Florida State against No. 11 Clemson at 9 p.m.
ACC Regular Season Champion and top-seeded Miami will open play Friday at noon against the Boston College-Georgia Tech winner. Virginia faces the NC State-Virginia Tech winner at 2 p.m. Duke meets the Maryland-Wake Forest winner at 7 p.m., while North Carolina will face the Florida State-Clemson winner at 9 p.m.
The tournament continues with the semifinals on Saturday afternoon, followed by Sunday's 1 p.m. championship game.
2013 ACC Tournament
March 14-17, 2013
Greensboro Coliseum
First Round, Thursday, March 14
#8 Boston College vs. #9 Georgia Tech   ESPNU/ACCN      Noon
#5 NC State vs. #12 Virginia Tech       ESPNU/ACCN      2:00
#7 Maryland vs. #10 Wake Forest ESPNU/ACCN      7:00
#6 Florida State vs. #11 Clemson        ESPNU/ACCN      9:00
Quarterfinals, Friday, March 15
#1 Miami vs. 8/9 winner ESPN2/ACCN      Noon
#4 Virginia vs. 5/12 winner     ESPN2/ACCN      2:00
#2 Duke vs. 7/10 winner ESPN2/ACCN      7:00
#3 North Carolina vs. 6/11 winner       ESPN2/ACCN      9:00
Semifinals, Saturday, March 16
Game 9 (game 5 & 6 winners)     ESPN/ACCN       1:00
Game 10 (game 7 & 8 winners)    ESPN/ACCN       3:00
Finals, Sunday, March 17
Game 11 (championship game)     ESPN/ACCN       1:00