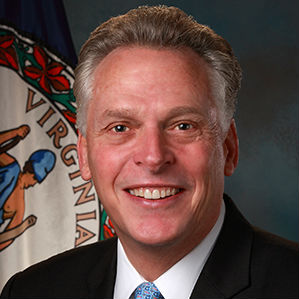 Governor McAuliffe ceremonially signed the Military Medics and Corpsmen bill, establishing the Virginia Military Medics and Corpsmen (MMAC) Pilot Program in the Commonwealth. Modeled after the U.S. Department of Veterans Affairs' Intermediate Care Technician Program, SB 437 established Virginia's MMAC Program, which is the first of its kind in the nation, creating pathways to employment to Virginia's health care fields for highly skilled medical veterans.
"Expanding benefits and employment opportunities for our veterans in Virginia has been a top priority of my administration since day one, and the Virginia Military Medics and Corpsmen pilot program underscores Virginia's unwavering commitment to our service members," said Governor McAuliffe. "This program ensures the advanced medical training our men and women received in uniform is harnessed in successful post-service career tracks in Virginia's health care industry. Whether we are functionally ending veteran homelessness, expanding post-service medical treatment, or creating new career pathways, Virginia will continue to be on the forefront of veteran services for those who bravely served our country."
The MMAC Program in Virginia is modeled after the highly successful Veterans Health Administration Intermediate Care Technician Pilot Program, which operated in 15 Federal Veterans Affairs Medical Centers across the United States. With the MMAC Program, Virginia is the first state in the nation to offer this kind of innovative pathway to employment for these highly skilled veterans.
"As a former Army doctor, I worked alongside military medics while treating soldiers injured during Desert Storm," said Lieutenant Governor Ralph Northam. "Our medics and corpsmen have extensive training and valuable experience, and this important piece of legislation recognizes their service, helps them transition into our civilian health systems, and has the potential for hundreds of veterans to gain employment in healthcare jobs throughout Virginia."
House bill patron, Delegate Christopher Stolle added, "As a retired Naval Officer and physician, I can personally attest to the relevant, real-world experience military medics and corpsmen hold from their extensive military education and training while on active duty.  Military medics and corpsmen are outstanding candidates to help fill many gaps in Virginia's healthcare workforce."
"The Virginia Department of Veterans Services (VDVS) has been developing this initiative with input from the following five health systems: Sentara, Inova Health System, Carilion, Mountain States Health Alliance, and Bon Secours. We extend our thanks to these vital partners who will help develop this program," said John L. Newby, Commissioner of VDVS.
"Veterans trained as military medics and corpsmen should be recognized for the extensive skills they bring to the table,"noted Senate bill patron Senator George Barker.
Sentara Heart Hospital hosted the bill signing. Howard P. Kern, President and CEO of Sentara Healthcare, added, "Recognizing how important this is for veterans, and the Commonwealth's need for more health care professionals, Sentara has supported establishing this pilot program. We also have provided input to the Department of Veterans Services as it has been developing the details."
The MMAC Program will be accepting applications from qualified service men and women by the fall of 2016. To learn more visit www.dvs.virginia.gov or call the MMAC Program Manager at 804-786-0571.