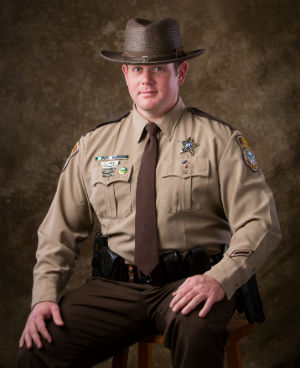 What can I say about Donald Smith that hasn't already been said? He has been a road deputy his entire career with the sheriff's office, and his work ethic is second to none. He goes above and beyond for the residents of Augusta County and has put his life on the line more than once to protect them. What you see is what you get when it comes to Donald. He tells you like it is. He is ambitious, dependable, honest, kind and most of all, hard working. He would give you the shirt off his back if you needed it. His character speaks volumes.
As a Victim Advocate who has worked Donald's cases, I can tell you he truly cares about what he does. He is involved with the victims, he cares about how his cases are handled and always strives to make sure the victims in those cases are kept up to date. He explains the court process to them, what the next step will entail and always makes himself available if and when they should need him. I have had the pleasure of getting to know Donald on a more personal level the past few months, outside of our jobs, and he is one of the most amazing people I have been blessed to know. He comes from a very strong, close, spiritual family. A family which means the world to him. A family who has opened their arms, home, and lives to those of us who have wanted to help him these last 7 months. There have been some who have tried to knock him down during this election, but he has continuously held his head high. He refuses to run a dirty campaign and I have the utmost respect for him. I am lucky and so thankful to be able to call him a friend.
I ask that you to do your homework and research all the candidates who are running for sheriff before voting. I personally do not care about what party anyone is attached to, who you know or where you've been. For me, my ideal sheriff is someone who is going to protect my family, care for this community, and go above and beyond. I truly believe Donald is the man to do that. He has prepared himself for this his entire life, and I have no doubt he will do a phenomenal job.
Vote Donald Smith for Augusta County Sheriff on November 3rd.
– Letter from Sandi Battaglia/Fishersville