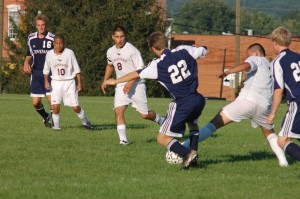 The 2012 Fishburne Military School soccer team was one point away from qualifying for the Virginia Independent Conference tournament. It's been a while since Caissons soccer has been to a VIC tournament. Coach Bryan Greene and his team have set that as goal #1 for 2013.
"We missed it by one point last year. One more tie, a penalty kick going in, and we're there. I feel like we're right there. I feel good about our chances this year," Greene said.
The Caissons will have to grow without Michael Blackburn, who will continue his career in college at Potomac State. But Greene has several key returnees to build around for 2013, including midfielder Harold McCoo, goalie Anders Lenardsen and defensive stopper Min Ho-Cho.
"The program has steadily improved every year, and a big part of that has been the guys who keep coming back and want to play. So every year, my expectations get a little bit higher, and the kids get closer and closer to them every year. We're looking to this year being a big year," Greene said.
More on Fishburne Military School online at www.Fishburne.org.