WTJU Folk Marathon airs on 91.1 FM Feb 5-11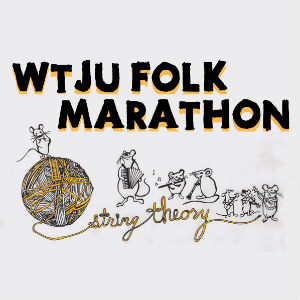 When it comes to folk music on WTJU, there's the guitar, banjo, and mandolin. Sometimes even clarinet, bagpipes, or accordion, if the DJs want to get a little wild.
On February 5-11, the station is going beyond the usual folk string instruments during its annual Folk Marathon – seven days of round-the-clock folk, roots, and world music.
"WTJU Folk announcers are unlike any other I have come across in my work in radio," explained Peter Jones, WTJU Folk Director. "They plumb the depths of excellent music and share songs and artists who you are not likely to find with streaming algorithms.
"We even bring those artists to Central Virginia, and we air scores of live performances each year here on 91.1 FM," he added.
This year's Folk Marathon will emphasize live music, featuring different live artists every day starting on Monday, February 5. Live Acts include Red and the Romantics, Take Two, Latin Guitar from The Bebedero, The Marvelous Murphy Sisters, and Brian's Hawaiians. Alligator brings its fantastic Grateful Dead covers on Saturday (2/10), while Sunday (2/11) features an Irish jam led by Patrick and Aaron Olwell.
WTJU's Folk Marathon doubles as a pledge drive, and the station is raising $60,000 over the course of the week. WTJU accepts donations online at wtju.net/donate.
"There's really only one way that the music has ever thrived on WTJU's airwaves – through the direct support of people in the community who care about it," said Nathan Moore, WTJU General Manager.
Broadcasting from the University of Virginia since 1957, WTJU is an eclectic radio station that brings people together through shared music experiences and excellent conversation.