Women's soccer: Shenandoah tops EMU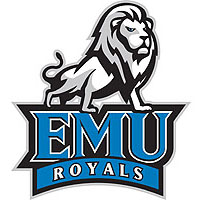 The EMU soccer women lost on the road at Shenandoah tonight 5-0. With the loss the Royals fall to 2-5 in conference play and 4-7 overall with just three conference games remaining on the season.
The Hornets struck early to get on the board in the 6th minute, then again in the 21st minute to have a 2-0 lead that carried into halftime.
Shenandoah scored twice early into the second half in the 61st and 65th minutes to take the commanding lead they needed to coast to the finish line. The Hornets would add one more goal in the 81st minute off a corner kick.
The Royals had opportunities to get on the board in the 74th and 77th minutes on shots by Laura Rittenhouse (Harrisonburg, Va./Eastern Mennonite) and Olivia Dalke(Dallas, Ore./Dallas) that were both saved by the Shenandoah goalkeeper.
EMU was outshot 26-7 and 13-5 on goal. Leah Wenger (Harrisonburg, Va./Eastern Mennonite) had 8 saves in goal for the Royals. Makayla Taylor (Madison, Va./Madison County) added two shots with one on goal.
Next up for the soccer women is on Saturday when they head to Ferrum. Game is set for a 12:00pm start time.