Women's basketball: Virginia tops Virginia Tech, 61-52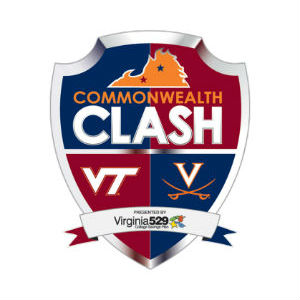 The Virginia women's basketball team (13-7, 6-1 ACC) picked up a 61-52 victory over Virginia Tech (13-6, 2-5 ACC) on Sunday (Jan. 21) at John Paul Jones Arena in Charlottesville, Va.
The Cavaliers led by 15 points in the first half, but the Hokies came back to tie the game, 50-50, with 2:33 remaining. Senior forward Lauren Moses (Mount Holly, N.J.) scored an and-one with 1:44 remaining to put UVA back on top, the start of an 11-2 run, including going 9-of-9 from the free throw line, to close out the game.
The Cavaliers had four players finish in double figures. Sophomore guard Dominique Toussaint (Staten Island, N.Y.) and senior guard Aliyah Huland El (Randolph, N.J.) scored 14 points apiece while Moses finished with 11 points and seven rebounds. Sophomore guard Jocelyn Willoughby (East Orange, N.J.) scored 10 points with eight rebounds.
Virginia Tech's Taylor Emery led the squad with 18 points, going 7-of-24 from the field. Chanette Hicks came off the bench to score 16 points with five rebounds and three steals.
"It was a very hard-fought game by the two teams," said Virginia head coach Joanne Boyle. "I give a lot of credit to Virginia Tech. We knew how they have been in every game and they fight, so we never expected them to go away. I'm really proud of our team and how their resilience showed down the stretch."
The Cavaliers made six of its first nine shots and built up an 8-0 run to lead 16-10 at the end of the first quarter. Virginia Tech trimmed UVA's lead to 23-20, but the Cavaliers answered with a 9-0 run, capped by back-to-back threes from Toussaint and freshman guard Brianna Tinsley (Madison, Va.) to build up a 35-20 advantage. The Hokies scored five-straight to cut the lead to 10, but sophomore center Felicia Aiyeotan (Lagos, Nigeria) kept them from building a run by hitting a hook shot with just under two minutes remaining. Virginia went into the break holding a 37-27 lead.
Virginia Tech outscored the Cavaliers 11-2 coming out of halftime, with UVA making just one of its first seven shots, as the Hokies narrowed the gap to 39-38. Toussaint fed senior forward Lauren Moses (Mount Holly, N.J.) in the low post to stop the run and preserve Virginia's lead. Virginia Tech again pulled to within one, 43-42, but a three-pointer from redshirt senior J'Kyra Brown (Rocky Mount, N.C.) followed by a layup from Moses built the UVA advantage back up to six, 48-42.
Both teams struggled from the field to start the fourth quarter. Virginia Tech went 1-of-13 while the Cavaliers missed their first 11 attempts. The Hokies were the first to find the basket again, with Emery hitting a jumper with 4:44 remaining to make it 50-46. Hicks made a layup with three minutes remaining to cut the deficit to two with a pair of Emery free throws completing the comeback and tying the game at 50 with 2:33 remaining.
Moses hit the first field goal of the period for the Cavaliers with 1:44 remaining, finishing a layup after receiving a feed from Brown in the low post, while also drawing the foul. Moses converted the free throw to give UVA a 53-50 edge. Moses also drew a charge on a Virginia Tech possession with 45 seconds remaining that gave UVA the ball. Virginia Tech was 1-of-5 shooting with two turnovers in the final 1:16 while the Cavaliers went 8-of-8 from the free throw line in that same span.
There were five early lead changes in the game, but Virginia did not trail for the final 35 minutes of the game.
Virginia finished the game shooting 38.6 percent, shooting 55.2 percent (16-of-29) in the first half, but 21.4 percent (6-of-28) in the second. Virginia Tech shot 28.2 percent overall (20-of-71) and were 4-of-28 (14.3 percent) from three-point range. Virginia was a perfect 13-of-13 from the free throw line while the Hokies went 8-of-15 (53.3 percent). Virginia Tech held a 47-41 edge in rebounding.
The game was sponsored by Virginia529, the official college savings plan of University of Virginia Athletics. With Virginia's victory, the Hoos have earned a half-point in the Virginia529 Commonwealth Clash. The score for the Clash is now University of Virginia – 2 and Virginia Tech – 4. Learn more about Virginia529 and this competition at TheCommmonwealthClash.com.
The Cavaliers continue their current homestand by hosting North Carolina (13-6, 3-3 ACC) on Thursday, January 25 at 7 p.m. at John Paul Jones Arena.
Single-game ticket prices for all home games are $10 for Reserved seating, $8 for adult General Admission and $6 for youth (18 & under), senior (60 & over) and UVA faculty/staff General Admission. Fans may purchase home game tickets through the Virginia Athletics Ticket Office online at VirginiaSports.com, by phone and in person. The Virginia Athletics Ticket Office is located in Bryant Hall at Scott Stadium and open Monday through Friday from 9 a.m. until 5 p.m. Telephone purchases can be made by calling 1-800-542-UVA1 (8821) or locally at 434-924-UVA1 (8821).