Women's basketball: Virginia hosts Virginia Tech on Sunday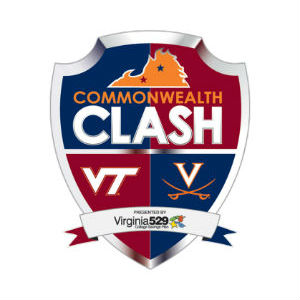 The Virginia women's basketball team (12-7, 5-1 ACC) hosts Virginia Tech (13-6, 2-4 ACC) on Sunday, Jan. 21 at 12:30 p.m. at John Paul Jones Arena in Charlottesville, Va.
The game will be televised on the ACC Regional Sports Networks. All of the 2017-18 Virginia women's basketball games – home and away – are available locally on the radio on NewsRadio 1070 AM and 98.9 FM WINA. The game will also stream live online as an ACC Network Extra contest (subject to local blackouts).
Sunday's game will include a celebration of National Girls and Women in Sports Day. This year, the 1992-93 ACC Champion Virginia women's basketball team will be honored in a special halftime ceremony. National Girls and Women in Sports Day brings national attention to the achievements of female athletes and to issues facing girls and women in sport. The event is co-sponsored by the University of Virginia Athletics Department and Women's Center. This season marks the 25th anniversary of the 1992-93 Virginia women's basketball team that won the ACC regular-season title and captured the ACC Tournament Championship for the second consecutive season. The Cavaliers were 26-6 overall and 13-3 in the ACC that season.
National Girls and Women in Sports Day will also feature a pregame sports festival held in the men's basketball practice gym in John Paul Jones Arena. The festival will include sports stations for youth to visit. The festival will take place from 11:00 a.m.-12:20 p.m. Youth completing all the stations will receive a complimentary t-shirt. Admission to the festival is free with a game ticket.
The Cavaliers had an eight-game win streak snapped with a 55-48 loss at No. 16 Duke last Sunday. It was the Cavaliers' longest win streak since winning nine straight in 2008-09. Virginia started ACC play 5-0 start for the first time since the 2000 season when the team started with nine straight conference wins.
Virginia is receiving votes in this week's USA Today Coaches' Poll for the third straight week.
Sophomore guard Jocelyn Willoughby (East Orange, N.J.) posted back-to-back double-doubles last week, scoring a team-high 18 points with 10 rebounds at BC and following with 11 points and 10 rebounds at Duke. Willoughby is shooting 55.2 percent (15-of-29) from the field in her last three games.
Sophomore center Felicia Aiyeotan (Lagos, Nigeria) became the seventh player in program history to record 100 or more blocked shots as a Cavalier, picking up her 100th at Duke. Aiyeotan leads the ACC with 46 blocked shots this season, already tied for 10th most in a single season in UVA program history. Aiyeotan is 10th in the ACC in rebounding, averaging 7.5 per game.
Virginia Tech is coming off an 86-75 loss to Duke on Thursday. The Hokies fell despite a 30-point performance from junior guard Taylor Emery. The Hokies took a program-record 33 three-point attempts in the game, making 13. Emery has nine games scoring 20 or more points this season. She is averaging 16.7 points per game, ranking ninth in the ACC.
Virginia Tech is 1-3 in its last four games, but those four losses are to then-No. 3 Louisville, No. 13 Florida State and No. 15 Duke. The Hokies were 11-2 in non-conference games this year, including victories over Auburn and Illinois.
Virginia leads the all-time series against the Hokies, 46-12, and is 21-4 in ACC contests. Last season, UVA swept the series, including Virginia downing a then-ranked No. 19 Virginia Tech, 76-27. The 27 points scored by Virginia Tech were the fewest by a Cavalier opponent since UVA held Norfolk State to 23 points on Dec. 28, 2012. Virginia Tech scored two points in the third quarter. The 49-point margin of victory against the Hokies matches the second-largest for the Cavaliers in an ACC game in program history, topped only by a 57-point victory over Wake Forest on Jan. 5, 1995. The Cavaliers had won 18-straight match-ups in the series prior to being swept by the Hokies in 2015-16.
A half-point in the Commonwealth Clash is at stake in Sunday's game. The Commonwealth Clash presented by Virginia529 is a head-to-head, points-based competition between the athletic teams at University of Virginia and Virginia Tech. The Commonwealth Clash encourages a friendly, statewide rivalry between the two schools across all school-sponsored sports with 21 individual event points on the line. The school that accumulates 11 points or more will be crowned the winner and take home the Virginia529 Commonwealth Clash trophy. Visit www.TheCommonwealthClash.com for more information and updated standings.
The Cavaliers continue their current homestand by hosting North Carolina (13-6, 3-3 ACC) on Thursday, January 25 at 7 p.m. at John Paul Jones Arena.
Single-game ticket prices for all home games are $10 for Reserved seating, $8 for adult General Admission and $6 for youth (18 & under), senior (60 & over) and UVA faculty/staff General Admission. Fans may purchase home game tickets through the Virginia Athletics Ticket Office online at VirginiaSports.com, by phone and in person. The Virginia Athletics Ticket Office is located in Bryant Hall at Scott Stadium and open Monday through Friday from 9 a.m. until 5 p.m. Telephone purchases can be made by calling 1-800-542-UVA1 (8821) or locally at 434-924-UVA1 (8821).