W&M, Fishburne alum Daniel Dixon signs with Boston Celtics
Former William & Mary and Fishburne Military School basketball standout Daniel Dixon inked a rookie free agent deal with the Boston Celtics over the weekend.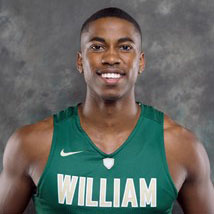 Dixon is the second W&M connection to the Celtics in the last four years after Boston selection W&M graduate Marcus Thornton in the second round of the 2015 NBA Draft.
"I'm extremely blessed to be part of such a great organization with so much history," Dixon said of signing with the Celtics. "It's always been a dream of mine to sign an NBA contract, and so many people have helped me along the way such as my family, the Tribe coaching staff and the community at William & Mary. I am forever grateful."
Dixon graduated from W&M as part of the program's winningest class with 77 victories over his four seasons. He enjoyed his best campaign as a senior, earning First Team All-CAA and NABC All-District honors. Dixon was also named the program's Most Valuable Player following the 2017 season.
In CAA play, he averaged a program-record 22.9 points per game and finished the year overall ranked second in the league and 58th nationally at 19.2 points per contest. Dixon scored in double figures in each of the Tribe's final 24 games and top the 20-point mark 14 times during that stretch. He set a school record and led the CAA with five 30-point games, including a career-high 36 in a win at Old Dominion.
Dixon poured in 576 points in 2016-17, which ranked eighth in school history. He finished the season among the top 10 in the CAA in field goal percentage (10th at 48.2), 3-point percentage (10th at 37.8) and free throw percentage (2nd at 87) to go along with ranking 20th in rebounding (4.7) and second in 3-pointers made per game (2.4). He capped his career third in W&M history in 3-pointers made (241) and 14th in scoring (1,355).
Dixon worked out for both Celtics and the Washington Wizards in advance of June's 2017 NBA Draft. He competed in the 2017 Worldwide Invitational Camp in Las Vegas in July and in the NBA G League Combine in August, catching the eye of NBA scouts.
At the Worldwide Invitational, Dixon was named first team all-tournament after averaging 13.5 points, 4.0 rebounds and 2.5 assists over four games. He scored a game-high 19 points to earn MVP honors in game seven of the Invitational.
Comments