Welcome To Funnville! Richmond Flying Squirrels introduce what's new In 2018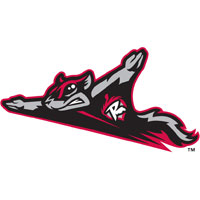 The Richmond Flying Squirrels, Double-A affiliate of the San Francisco Giants, are excited to introduce "Funnville," a new brand identity where memories and experiences transcend the physical boundaries of the stadium.
The Funnville concept embodies the core values of the Flying Squirrels franchise and will be represented at The Diamond through logos, specialty uniforms, concessions items and a 60-foot-wide inflatable archway. The Funnville concept, along with additional ballpark upgrades and a custom Flying Squirrels emoji keyboard were unveiled on Friday morning in the home clubhouse of The Diamond in front of fans, community partners and media
"Hard to believe we are entering our ninth season already," said Flying Squirrels VP & COO Todd "Parney" Parnell. "One of the main words we have built this brand around is fun, so it is appropriate that we deem this place, our brand and everything we do Funnville. We are looking forward to building the Funnville brand with fans of all ages and making memories together for many years to come."
Funnville specialty uniforms will be worn by the Flying Squirrels during each Sunday home game. The jerseys are colored with a Funnville blue base over a faded star patterned background. The Funnville logo in balloon lettering is arched across the front. Balloon font numbers are centered in the middle back of the jerseys. The Funnville uniform caps are tri-colored white, blue and orange with the Funnville logo angled on the front. Funnville merchandise is currently available for purchase in the team store or online here.
The physical boundary to Funnville will be recognized by a 60' by 24' inflatable red arch with the Funnville logo on the apex. The arch will be placed at the main parking lot entrance of Squirrels Way on game days. The Squirrels mantra of Have Funn, Go Nuts is emblazoned down the sides of the arch, embedded with a stars and logos. Other Funnville changes will include a transformation of the upper third base concession stand. The rebranded stand will have specialty, rotating Funnville food items throughout the year.
In addition to Funnville, the Flying Squirrels also announced plans to roll out a free customized emoji keyboard. The keyboard will be available for download before the start of the 2018 season and will feature Funnville characters such as Nutzy and Nutasha. The initial download will have 20 customized emojis that exemplify the Funnville experience, with more to be added soon thereafter.
The Squirrels also announced the most recent physical upgrades to The Diamond. Since the team's inception, the Flying Squirrels organization has spent millions of dollars to renovate, upkeep and enhance The Diamond. This season, a new sound system is being installed to drastically improve the overall sound quality and clarity for fans throughout the ballpark. Other upgrades included new, viewer-friendly netting behind home plate, extending to the ends of each dugout for enhanced fan safety along with padded outfield walls for enhanced player safety. Full details of these projects can be found below.
New sound system
Installed by RTW Media, a full-service Class A contractor that specializes in professional audio visual solutions. RTW's has partnered with Danley Sound Labs on the Flying Squirrels sound reinforcement project. Danley Sound Labs is a loudspeaker and amplifier manufacturer for large venues, stadiums, and arenas worldwide. Danley speakers can be found providing sound our nation's premier venues, such as Mercedes Benz Arena, Church Hill Downs, and Turner Field. Danley uses its Synergy Horn technology to offer a loudspeaker with unparalleled array-ability, pattern control, phase coherence, and fidelity. The project consists of replacing the current speaker set up with three, Danley SH-461-AT's, two, 18" Subwoofer Danley 118-AT's and a Danley 5,000 watt/4 channel DNA-20K4PRO. New hands-free, wireless microphones will also be part of the new system.
New home plate netting
From Netting Professionals a DYNEEMA 1-3/4" square mesh netting with UV DURA-Dip treatment has been installed the DYNEEMA netting has replaced the old home plate netting along the existing backstop poles. Two 18ft x 6" poles have been added at far ends of dugouts with cable pull on top and install new netting system above dugouts. Fill in wedges from existing 30' backstop poles to lower 15' poles with netting. Netting total distance is approximately 280 linear feet.
New padded outfield walls
From Sports Graphics (fieldwallpads.com). Installing 3" high-impact dense foam in 4' widths covering the lower outfield wall, concrete walls along stadium seating bowl, and custom backstop padding. Advertisements will be printed directly onto the field pads with an outlining picture frame effect.
The Richmond Flying Squirrels operate at The Diamond year-round and will host the annual Charity Hot Stove Banquet on Thursday, Jan. 25 with special guest Karl Ravech. Limited tickets for the event areavailable here. The Flying Squirrels return to Funnville for Opening Night on April 13, 2018 against Reading. Ticket packages are currently on sale by contacting the Box Office. Single game tickets go on sale March 3rd at Fan Fest.