Waynesboro Police seek help ID'g iPhone thief
Update: Oct. 4, 2:29 p.m. The suspect has contacted the Waynesboro Police Department and identified himself as the theft suspect.  Also, several tipsters called as well giving the investigating officer the suspect's name.  Charges pending.
Original post: Oct. 4, 11:46 a.m. The Waynesboro Police Department is requesting assistance from the community to help identify an individual who stole a cell phone from a Staunton man last week at a city eatery.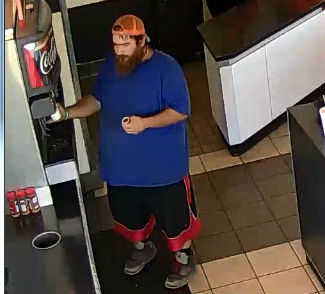 On September 26, during the mid-afternoon, the 69-year-old victim was dining at Steak 'n Shake, 840 Shenandoah Village Drive.  He inadvertently left his Apple IPhone, valued at $300, on the table where he was eating.
The suspect, describe as a heavyset white male with a scraggly beard, can be seen on surveillance footage taking the phone and quickly concealing it on himself.
If anyone has information as to the identification of this individual, please call Officer P Scott with the Waynesboro Police Department at (540) 241-5764.
Comments