Waynesboro Police seek ATM credit card skimmer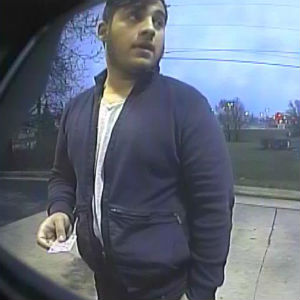 The Waynesboro Police Department was summoned to Union Bank & Trust located at 100 Lucy Lane Sunday morning when maintenance personnel discovered that a credit card skimmer had been installed on one of the bank's automated teller machines.
Maintenance was automatically notified that the machine was down, which is a safety feature of the system when the ATM is tampered with, and upon arrival found that a device had been placed over the card reader to capture data from unsuspecting customer's credit or debit cards.  A second device which is designed to store the stolen data was attached to the face of the ATM but fortunately no customer data was captured or stored due to the ATM going out of service shortly after the device was applied.
Bank surveillance cameras captured the attached footage along with still photographs of a male subject clearly shown placing the skimming device on the ATM after approaching on foot. The department requests persons with information concerning his identity contact Detective Chris Cross of the Waynesboro Police Department at 540- 942- 6786 or Crime stoppers 1-800-322-2017.
In addition, we are attaching pictures of the actual components that were placed on this particular ATM to show citizens what to look out for when using automatic tellers or vending machines in the area. Of course not all skimming devices will look exactly like these but often they are similar.
Comments