Top News
Waynesboro City Council member talks citizen input on Viewpoints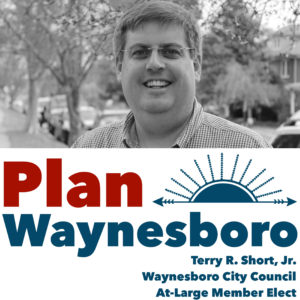 Waynesboro City Councilman Terry Short asked for your input on city government, and he says you're offering.
"We've had great response to date. It's been very impressive, and I'm very excited to share it with my colleagues," said Short, discussing his citizen survey in an interview for the WVPT show Viewpoints that will air Wednesday at 7:30 p.m.
Go to WVPT.net for more details on how to tune in.
Short and fellow City Council member Elzena Anderson are the guests on the debut episode of Viewpoints, with co-hosts Chris Graham and Crystal Graham, the editors of the Augusta Free Press.
Short is conducting an online and paper survey to gather community input on what is most important to residents.
The online survey is available at www.terryshortjr.com/survey.
"It's an important tool that shows people it's not about us and them. We're all one city, one united city, and we need to have deep collaboration and communication between ourselves," said Short, citing his desire to use data from the survey, which will be online through Sept. 30, to help guide the city's comprehensive plan update later this year.
"As we work toward the comprehensive plan process in the fall, it's going to be important that we accelerate the development of this plan so that we can start making some financial decisions," Short said. "Elzena and I know that this isn't a lifetime gig. We're here for four years, and we want to make it as great a four years as we possibly can. And the way to do that is capitalize on opportunities, and the best way to do that, in my eyes, is to have a plan in place so that you can begin to lay out your financial priorities, and start that in earnest as early as next year."