Warner urges President Trump to invest in Alzheimer's research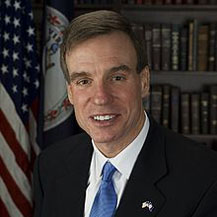 U.S. Sen. Mark R. Warner (D-VA), Co-Chair of the Senate Alzheimer's Task Force, joined Co-Chair Sen. Susan Collins (R-ME) and a bipartisan group of colleagues in a letter to President Trump requesting an increase in funding for Alzheimer's research in his fiscal year (FY) 2019 budget request.
"Alzheimer's is one of our nation's leading causes of death and it is the only one of our nation's deadliest diseases without an effective means of prevention, treatment, or cure,"the senators wrote.  "If nothing is done to change the trajectory of Alzheimer's, the number of Americans afflicted with the disease is expected to more than triple by 2050."
In addition to Sens. Warner and Collins, the letter was also signed by Sens. Amy Klobuchar (D-MN), Thom Tillis (R-NC), Sheldon Whitehouse (D-RI), John Hoeven (R-ND), Richard Blumenthal (D-CT), John Boozman (R-AR), Ed Markey (D-MA), Roger Wicker (R-MS), Todd Young (R-IN), Chris Van Hollen (D-MD), Angus King (I-ME), and Bob Casey (D-PA).
"Federal funding for Alzheimer's research is a wise investment," the senators continued.  "We urge you to support efforts to meet the research investment objective set forth in the National Plan by boosting the current investment in Alzheimer's research in the fiscal year 2019 budget request."
Sen. Warner has been a longstanding advocate in Congress for improving access and quality of medical care for some of our country's most vulnerable patients. Last year, he introduced bipartisan legislation designed to give people with advanced illness, such as Alzheimer's disease, new tools to plan for their care and empower them to have those choices honored.