Warner to Trump: Firing Mueller is a 'red line' you cannot cross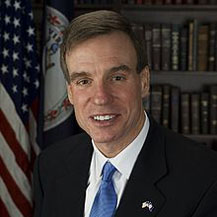 U.S. Sen. Mark R. Warner (D-VA), Vice Chairman of the Senate Select Committee on Intelligence, issued the following statement on the New York Times report that President Trump ordered the firing of Special Counsel Robert Mueller last June.
"I've said it before, and I am saying it again: firing the Special Counsel is a red line that the President cannot cross. Any attempt to remove the Special Counsel, pardon key witnesses, or otherwise interfere in the investigation, would be a gross abuse of power, and all members of Congress, from both parties, have a responsibility to our Constitution and to our country to make that clear immediately."
Last month, Sen. Warner spoke on the floor of the U.S. Senate to warn of threats to Special Counsel Robert Mueller's investigation of Russian interference in the 2016 election and highlight the constitutional crisis that would likely ensue if the President were to interfere in the Mueller probe.