Warner raises concerns about State Department vacancies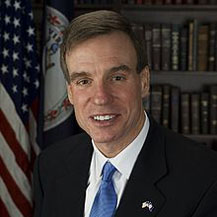 U.S. Sen. Mark Warner (D-VA), Vice Chairman of the Senate Intelligence Committee, joined a group of 18 U.S. Senators in a letter to President Trump expressing concern about the many vacant senior positions and extensive attrition at the State Department.
"As Senators who believe that diplomacy is critical to the national security and prosperity of the United States, we write once again to express our concern regarding the large number of key diplomatic positions that remain vacant and the reduction in the ranks of the Foreign Service," the Senators wrote.
They added, "This decline, coupled with an ongoing external hiring freeze and lower than average Foreign Service Officer intake, compromises American global leadership and undermines our national interests. The absence of U.S. ambassadors in critical parts of the world leaves a number of our allies and strategic partners seeking assurances that America is committed to diplomacy."
"We urge you to consult with Congress regarding measures that impact the recruitment, staffing and retention of State Department," they concluded. "We ask that you quickly put forward qualified nominations for all vacant diplomatic posts."
In addition to Sen. Warner, the letter was also signed by Sens. Chris Van Hollen (D-MD), Sheldon Whitehouse (D-RI), Richard J. Durbin (D-IL), Edward J. Markey (D-MA), Jack Reed (D-RI), Tammy Baldwin (D-WI), Bill Nelson (D-FL), Robert P. Casey, Jr. (D-PA), Sherrod Brown (D-OH), Amy Klobuchar (D-MN), Tina Smith (D-MN), Ron Wyden (D-OR), Elizabeth Warren (D-MA), Richard Blumenthal (D-CT), Cory A. Booker (D-NJ), Christopher A. Coons (D-DE), and Gary C. Peters (D-MI).