Warner introduces bills aimed at combating opioid crisis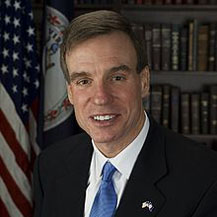 In an effort to curb the nation's opioid epidemic, U.S. Sen. Mark Warner (D-VA) today introduced four bipartisan bills aimed at making it easier for people to access substance use disorder treatment using telehealth services.
"One of the main drivers of the opioid crisis is that too many people lack access to quality substance use disorder treatment," said Sen. Warner.  "Expanding access to telehealth services could not only save lives but equip rural and underserved communities with better tools to fight this epidemic."
Telehealth is the provision of health care services via telecommunications technologies, such as live video interactions, that make it easier for healthcare providers to treat patients no matter where they live. However, in order for a Medicare patient to receive reimbursement for substance use disorder treatment, individuals are obligated to receive care from a Medicare approved location known as an originating site. Oftentimes individuals who need treatment live out of reach from the originating site or those centers may be filled at capacity. That is why Sen. Warner, along with Sens. John Thune (R-SD), Ben Cardin (D-MD) and John Cornyn (R-TX), introduced the Expanding Telehealth Response to Ensure Addiction Treatment (eTREAT) Act to reduce the existing barriers to expand telehealth services for substance use disorder treatment. The bill text is available here.
Virginia is a national leader in telemedicine. The University of Virginia Center for Telehealth was launched in 1994 and has since grown into a national model for the health industry. Since then, UVA and its network of 152 telemedicine partners have enabled more than 51,000 patient encounters across more than 60 specialties, saving Virginians roughly 16 million miles of travel. While the center was selected as one of 14 regional telehealth resource centers by the federal government, it still faces barriers to delivering care because outdated federal laws restricts Medicare's coverage of telehealth services.
"The University of Virginia Health System and our Center for Telehealth commend Senator Warner for his leadership in addressing barriers that prevent patients from getting needed substance abuse treatment in a timely way by eliminating burdensome geographic originating site restrictions in Medicare.  The Expanding Telehealth Response to Ensure Addiction Treatment (eTREAT) Act of 2018 will allow telehealth– demonstrated to be an effective tool to deliver health care– to provide such evaluation and treatment services to greater numbers of patients nationwide," said Dr. Karen Rheuban, Director of the UVA Center for Telehealth.
In addition, Sen. Warner introduced three other bills aimed at expanding the use of telehealth services for Medicaid patients receiving substance use disorder treatment.
The Medicaid Substance Use Disorder Treatment via Telehealth Act will make clear how federal Medicaid funds can be used for substance use disorder treatment through telehealth services. Specifically, the bill will require the Secretary of Health and Human Services (HHS) to issue guidance on the reimbursement options available to state Medicaid services and treatment of substance use disorder through telehealth. The bill text is available here.
In addition, the Telehealth for Children's Access to Services and Treatment (TeleCAST) Act will help ensure children suffering from substance use disorder receive the assistance they need through telehealth services. The bill will require the Government Accountability Office (GAO) to evaluate the population of children who utilize Medicaid treatment for substance use disorder. In addition, the bill requires that the Centers for Medicare and Medicaid Services (CMS) produce a report on reducing barriers to using telehealth services and remote patient monitoring for pediatric populations under Medicaid. The bill text is available here.
In 2003, then-Gov. Warner expanded Medicaid coverage for telemedicine statewide, including evaluation and management visits, a range of individual psychotherapies, the full range of consultations, and some clinical services, including in cardiology and obstetrics. Coverage was also expanded to include non-physician providers. Among other benefits, the telehealth expansion allowed individuals in medically underserved and remote areas of Virginia to access quality specialty care that isn't always available at home.
The final bill, the Opioid Addiction Treatment Programs Enhancement Act, will improve data collection on substance use disorder among Medicaid recipients. The bill will require the Secretary of Health and Human Services to publish comprehensive data on the CMS website regarding the prevalence of substance use disorder within the Medicaid beneficiary population and the services provided for treatment of substance use disorders under Medicaid. By receiving the most up-to-date information, states will be better equipped to combat the growing opioid epidemic by targeting their efforts in communities that need it the most. The bill text is available here.
In the Senate, Sen. Warner has been working on ways to combat the opioid crisis that has had a devastating effect for communities in rural Southwest Virginia.  In March, Sen. Warner voted in favor of the omnibus bill that provided a total of $3.3 billion in increased funding to combat the opioid crisis, including an increase of $2.8 billion in treatment, prevention and research for programs under the Department of Health and Human Services (HHS) to help communities across Virginia and the nation fight against the opioid epidemic. He has also passed into law bipartisan legislation to expand the use of federal telehealth services.
Comments