VMI Football closes out spring practice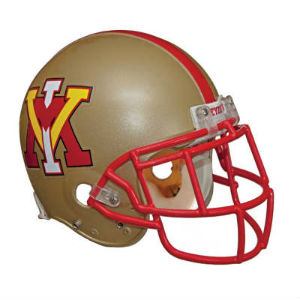 VMI Football spring practice is over. It's now on to exams, summer workouts, and focus ahead for preseason camp in preparation for the 2018 season.
The Keydets concluded spring drills Friday afternoon with an overtime scrimmage conducted under a special scoring system. The defense topped the offense 30-24 in a spirited scrimmage that saw 40 plays over 11 overtime possessions.
Big defensive plays included cornerback Collin Loftis knocking down a pass in the left corner of the end zone to end the fourth overtime possession and defensive back Uzoma Kpaduwa delivered a big hit following a screen pass reception that forced the offense to settle for a field goal.
Defensive lineman Ryan Clark also added a sack and a tipped pass to spark the defensive play.
"That's the way we want our defense to play," said head coach Scott Wachenheim following the scrimmage. "Running to the football and making plays."
Offensive scoring plays included a two-yard touchdown run by Quan Myers and three-yard score by Chima Kpaduwa. Grant Clemons booted a 38-yard field goal from the left hash and Tommy Smith and Reed King added 38 and 39 yard field goals, respectively.
Reece Udinski and Austin Coulling handled quarterback duties with Udinski completing seven of 11 passes and Coulling connecting on a 20-yarder, the longest play of the scrimmage.
"I thought the kicking game was sharp and I thought we got a lot better today as the scrimmage progressed. I thought offensively Reece Udinski did a fine job executing on the day," added Wachenheim, who also recognized the efforts of several players for their performance in spring ball over the past four weeks.
"On defense, Jordan Ward (DL), Noah Delaney-Manual (DL), Ryan Clark and Riuq Trotman (DB) are guys we recognized as being the best at getting better this spring. On offense, Reece Udinski, Brad Davis, Rohan Martin, and Connor Riddle were guys who were in that group."
Looking ahead, Wachenheim said the team is working hard to prepare for the months ahead. "We want our guys to compete to be the best they can be in the classroom. We want them to follow the VMI Honor Code because that's what we're about. We're looking forward to them performing in the classroom and looking ahead to summer we want them to be the best in the country at working out under their team-elected squad leaders as they do the workouts and stay true to brothers."
Wachenheim indicated that approximately 20 cadet-athletes would be on Post for the first summer school session and all incoming 21 scholarship freshman plus another five. "They'll be here with Coach Forman (strength coach) lifting weights plus our coaches get two hours a week to work with them. With modern technology you can push out video to the young men when they're at home. It's a great chance for them to eat, sleep, and come back bigger, stronger and faster."
VMI opens the season September 1 at Toledo. Tickets for season and individual sales will be available July 1 onwww.vmitickets.com or by calling 540-464-7266.
Comments