VMI edged by UNCG in thriller, 63-61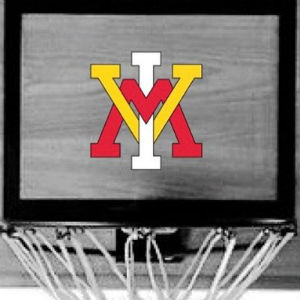 Two free throws by Francis Alonso in the waning seconds were the difference, as the UNCG Spartans survived for a 63-61 win over the VMI Keydets in SoCon basketball action Saturday at Cameron Hall in Lexington, Va.
VMI (5-9, 0-3 SoCon) had rallied from a 12-point halftime deficit to take the lead with 4:17 remaining, and the game was tied at 61 after a pair of free throws by Austin Vereen with 26 seconds on the clock. Alonso got the ball with just over 20 seconds remaining and dribbled right to left beyond the three-point arc, before attempting a three-pointer from the left side. VMI's Greg Parham was whistled for a foul on the play, leading to three free throws for Alonso, who made two to make it 63-61.
The Keydets had one final chance, but a Vereen three-pointer from seven feet inside half court bounced off the rim and UNCG (11-4, 2-0) escaped with the win.
Alonso led UNCG with 19 points, while James Dickey chipped in 14 and nine rebounds. Bubba Parham led the Keydets with a 19-point afternoon, while Vereen added 14.
After close play early in the contest, the visiting Spartans outscored VMI 22-11 over the final 7:14 of the first half and took a 37-25 edge to the locker room. UNCG had only that margin despite shooting 15 of 28 (53.6%) from the field and holding VMI to just a 30.4% clip. An 8-0 edge in made free throws had kept the Keydets in the game, and they took advantage in the second half.
UNCG appeared to still be in complete command after a Malik Massey layup made it 53-43 with 8:09 remaining, but a Vereen four-point play on VMI's next possession started a 14-2 run. The Keydets capped that run, and took their first lead of the day, on two Fred Iruafemi free throws with 4:17 on the clock.
Three ties and a lead change followed and set the stage for the dramatic final sequence.
For the game, VMI shot 19 of 49 (38.8%) but was 12 of 26 (46.2%) in the second half. The Keydets were 7 of 19 (36.8%) from three-point range on the afternoon and 16 of 23 at the foul line (69.6%). UNCG went 22 of 57 (38.6%), 7 of 24 (29.2%) and 12 of 14 (85.7%) in those stats, including a startling 0 for 14 on three-point attempts in the second half.
VMI basketball will return to action January 13, when the Keydets travel to Johnson City, Tenn. to take on the Bucs of ETSU. Game time is set for 4 p.m.
Postgame: VMI coach Dan Earl
"I was really proud of the guys to respond like we did. We had a couple of tough outings against two good teams (Furman, Wofford) and we had a one day prep for UNCG. They are a very good team but I thought our guys battled and it was good to see. We were down a little bit early and we were a little unsure about breaking their press, but we continued to fight."
"They had a size advantage, but I thought we were fighting for rebounds throughout the game and we had a variety of guys step up."
"I thought it was a pretty good job of our team with the turnovers. We have to take care of the ball. Keeping it down to 12 against a good defensive team that mixes things up was good."
"I was really proud of Austin Vereen stepping up the way he did. He was 1 for 7 in the first half and we told him to keep shooting if he had open looks. He was aggressive and drove to the basket a couple of times and was getting fouled."
"Down the stretch we missed a couple of key free throws and missed a pull-up jumper and that's the next step. We have to fight to become consistent every game and we're learning that. When you get into a nail biter down the stretch, you have to make key plays."