VMI completes season sweep of The Citadel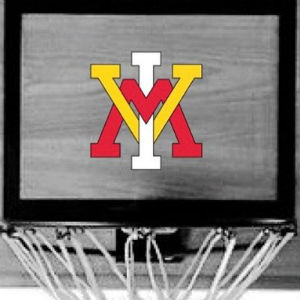 Looking for some momentum with the league tournament two weeks away, the VMI basketball team held on to defeat rival The Citadel by a 75-71 score 
Saturday
 afternoon at McAlister Field House in Charleston, South Carolina.
With the win, the Keydets (8-18, 3-12) earned a season sweep over the Bulldogs (9-18, 4-11) for the first time since the 2014-15 season. The schools have split the series the past three years.
VMI built a 44-39 lead by the half after shooting 47 percent from the field and eventually built a 10-point lead with only a few minutes remaining. The Bulldogs climbed back, however, and pulled ahead of the Keydets, 71-70, with less than a minute remaining in the game.
After a timeout, VMI looked to junior Austin Vereen, who converted a huge three-pointer from the left side in what proved to be the game-winning shot with only seven seconds on the clock. The Bulldogs nearly hit a three of their own on the other end but the ball rolled out to secure the Keydet victory. After a foul, freshman Bubba Parham made the final free throws for the game's final result.
The Keydets were led by Parham, who came one point shy of his career high with 25 points on 8-18 shooting from the field and converted eight of 10 free throws. Fellow freshman Myles Lewis also came up big by scoring 11 points as he went a perfect 5-5 from the field 
in 14 minutes
 of play. Jordan Ratliffe also represented the freshman class well by scoring nine points.
VMI came out on the plus end of several key factors of the game including scoring 23 points off turnovers to Citadel's 12 and earning 16 fast break points to five for the Bulldogs. The Keydets also earned 29 points from the bench to 17 for The Citadel. Both teams registered 28 points in the paint.
Virginia native Zane Najdawi led the way for the Bulldogs with 23 points on 7-12 shooting while teammate Matt Frierson poured in 20 points.
The Keydets have one more road game at Furman set for 
Tuesday
 night at 
7 p.m.
 before returning home to finish off the regular season at home. VMI faces Samford at home 
Friday
 night at 
7 p.m.
 before Senior Day 
next Sunday
 against Chattanooga at 
1 p.m.
 at Cameron Hall.
VMI head coach Dan Earl
"While it wasn't the prettiest of games, I thought it was a hard fought game by both sides. Exactly what you would expect from a rivalry game. I give a lot of credit to The Citadel – they played extremely hard. Najdawi is a very tough cover and Frierson is a tremendous shooter and they have a variety of other pieces that can play, so it makes it tough. I thought they did a great job of changing defenses as well."
"While we didn't always execute great down the stretch, we competed throughout and I am very proud of our guys' effort. It was a true team effort – with many players having a positive impact on the game including Jordan Ratliffe and Myles Lewis – really everyone chipped in."
"Basketball is a funny game; at the end of the day often it comes down to making and missing shots. It is tough to win a game when you shoot so poorly from '3' like we did (16 percent). Fortunately, Austin Vereen hit a huge one late off a great Bubba Parham pass which ended up being the game winner. They had an open one after that and lucky for us it didn't drop. Again, a hard-fought game for both sides and we were fortunate to come out on top."
"It is good for us to be in games like this and to continue to get better and try to learn how to win. I am proud of our guys."