VMI basketball participates in Rockbridge Service Day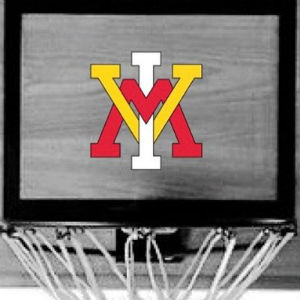 The VMI men's basketball squad participated in several Rockbridge County community outreach activities on Wednesday, January 10.
The team took advantage of a week-long break in their 2017-18 game schedule to visit and perform community service in the local area.
Several members of the squad visited the Rockbridge SPCA and helped exercise some of the dogs there while getting a good workout in the process. At times the dogs seemed to be walking the cadet-athletes, but all parties appeared to have an enjoyable time.  One lucky pup found a home during the week and all of the others are ready to be adopted by nice families.  More information on the dogs and the Rockbridge SPCA can be found here: rockbridgespca.net/adopt/available-dogs.
Another group of basketball cadet-athletes also participated in activities at the Rockbridge Regional Library located on Main Street in Lexington. The group engaged in the S.T.E.A.M. Jr. initiative, a Science, Technology, Engineering, Art, Math programming for younger kids typically grades 3 and under.
S.T.E.A.M. Jr . is a weekly program put together by the Library's Kelsey Bosley and takes place every Wednesdayfrom 4-5 p.m. while traditional S.T.E.A.M. programming occurs each Thursday from 4-5 p.m. The programming is free for the community.
During the visit, VMI freshman guards Greg Parham and Bubba Parham were in charge of creating a marble rollercoaster, then guiding the kids in creating their own project. Ms. Kelsey let the guys keep their creation made of paper plates, a pool noodle, empty paper rolls and popsicle sticks to take back to the locker room.
The basketball team also assisted in packing kits as part of the Rockbridge Regional Library free "Get Ready for Kindergarten" program. Rockbridge Community residents with four or five year olds at home can ask for a free kit at any branch library. A video on the program can be found here: www.youtube.com/watch?v=T0vou03DZ8I&feature=youtu.be