Sports
VMI baseball announces staff moves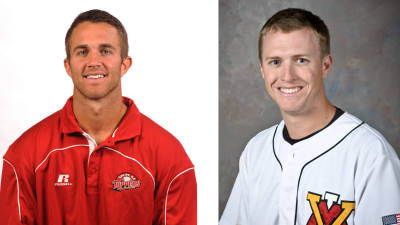 Former Western Kentucky volunteer assistant Casey Dykes has been named the newest full-time assistant coach for VMI baseball. In addition, pitching coach Travis Beazley has been promoted to associate head coach. 
Dykes comes to VMI after spending the 2014 season as a volunteer assistant with the Hilltoppers. He worked with the outfielders during that time, in addition to heading up team operations, baseball camps and team nutrition, which he also did during the fall of 2013. Dykes saw significant improvement from his outfielders during his lone regular season as a volunteer, as the WKU outfielders went from six assists in 2013 to 15 the following year. All three of the Hilltoppers' regular outfielders hit over .300, with Anderson Miller leading the team with a .336 batting average that helped him earn Second Team All-Sun Belt honors. 
"I'm thankful for the opportunity Coach Hadra has given me to be part of his staff at Virginia Military Institute," stated Dykes, who will also serve as the program's recruiting coordinator. "The tradition at VMI is one of a kind and I'm fired up to be a part of that. This is a blue-collar program and I look forward to working with this staff and team as we enter back into the SoCon and work towards bringing a championship to Lexington."
During his four-year playing career at WKU, Dykes saw the majority of his time at third base and posted a career .960 fielding percentage. He finished his four-year stay at WKU as a .284 career hitter, playing in 185 games, including 174 starts. He posted a career .382 slugging percentage and a .373 on-base percentage, while belting 11 career home runs and driving in 95 over four years.
Dykes holds a bachelors' degree in sport management from WKU, in addition to a masters' in athletic administration that he completed in 2014.
"I am very excited about adding Casey to our staff. It was very apparent very early on in the interviewing process that he was someone that I needed to spent some time with because of his eagerness and excitement about the opportunity to come to VMI and work with our cadet-athletes," said head coach Jonathan Hadra. "He will gain instant credibility with our players because he is coming from a program, Western Kentucky, that over the past few years has competed for and won conference championships and advanced to the NCAA Regionals. He knows the everyday effort and focus it takes to attain the goal of being a conference champion. Casey will work with our catchers and lead our recruiting efforts, and I have complete confidence in him that he will continue developing positive relationships with high school and travel coaches all over the region in order to find the quality player and person it takes to do well at VMI."
Beazley becomes VMI's newest associate head coach, following in the footsteps of Hadra. He is entering his fourth year as the pitching coach at the Institute, and has seen four of his proteges selected as MLB draft picks over the past three seasons, including Reed Garrett and Connor Bach following last year. All told in 2014, the VMI pitching staff posted a 3.53 ERA, its lowest since 1970 and a mark that shattered the program's record for the aluminum bat era (3.83), set in 1974.
"Travis has been such a vital piece of our coaching staff over the last three years, and I am excited to announce his promotion to associate head coach," offered Coach Hadra. "He deserves a lot of the credit for the recent run of success that we have had on the mound over the last three years.  He always has a plan in place for each pitcher that allows them to grow and develop on a daily basis. Those plans are a large reason why we have had multiple pitchers drafted over the last three years, and also why the 2014 pitching staff set the program ERA mark.  I am excited about the future of our pitching staff and look forward to continuing to work with Travis."
VMI baseball opens its 2015 season on Feb. 13, taking on North Florida in Jacksonville, Fla.