Top News
Virginia Tech graduating senior Matthew Yourshaw's 3-D visual effects hit the big screen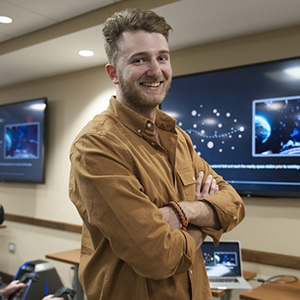 Even before graduating from the School of Visual Arts in the College of Architecture and Urban Studies at Virginia Tech, Matthew Yourshaw had already racked up an impressive resume reel in film and television.
The Blacksburg, Virginia, native has used his skills in three-dimensional animation and computer-generated imagery to create tentacles for the dark underworld of Netflix's hit series "Stranger Things," make a spoon fly in a Kellogg's commercial, and massacre fur trappers with arrows in the Academy Award-winning movie "The Revenant."
On Friday, he earns his master of fine arts in creative technologies — Yourshaw's second degree from the School of Visual Arts (SOVA), after getting his bachelor of fine arts in 2014.
"I fell in love with 3-D animation at Virginia Tech," he said. "It allows me to build my own little world. There's no restriction on what you can imagine or create."
His master's thesis, ORBITAL, which Yourshaw presented to an appreciative audience of SOVA faculty, students, and his parents at the Newman Library on Dec. 2, is a virtual-reality space-simulator video game with a cinematic narrative, placing players into the roles of astronauts on a space walk. Using joysticks and virtual reality headsets, players have two minutes to navigate a minefield of asteroids and get to the space station before fuel and air in their spacesuit run out.
Yourshaw designed ORBITAL to combine the challenges of a virtual reality video game with the cinematic story arc of "the hero's journey," a narrative concept introduced by acclaimed mythology scholar Joseph Campbell that forms the basis for many films.
"I've enjoyed watching Matthew's rise from his freshman year to become a shining star in our creative technologies program," said Thomas Tucker, associate professor of art and chair of creative technologies. "He's a natural teacher and his professional experience has helped inspire students to reach higher standards."
Yourshaw represents the growing demand in the workplace for graduates who can blend creative skills with technology expertise. The School of Visual Arts introduced creative technologies as an undergraduate concentration this year — and saw it quickly emerge as the most popular choice.
Creative Technologies and Experiences is a strategic growth area at Virginia Tech, capitalizing on the university's interdisciplinary strength in the arts and technology. Virginia Tech's School of Visual Arts is noted in national rankings as a top 25 animation program.
"Our students land jobs in varied industries, ranging from film and television, advertising, and marketing to software development, business, and academia," said Dane Webster, associate professor of art and senior fellow at the Institute for Creativity, Arts, and Technology. "Their ability to apply creativity and technology in a variety of contexts makes them rock stars on the job market."
The fourth in his family to attend Virginia Tech (his father, mother, and older brother are all alumni), Yourshaw always had a passion for special effects. As a kid, he paused the VCR repeatedly to dissect visual effects in "Star Wars" and "Raiders of the Lost Ark." Rising through Blacksburg High School, he enjoyed editing and film. Upon entering Virginia Tech in 2010, he chose the School of Visual Arts.
"I hadn't really done a lot of fine art — just some drafting and hand drawing — but that wasn't a bad thing," he said. "They teach you to relearn the way you draw. The B.F.A. program allowed me to explore a ton of topics and acquire broad art history knowledge that's extremely important in everything I do."
While taking a class on 3-D animation, Yourshaw found his true passion. A series of internships with visual effects offices in New York and Los Angeles honed his skills, beefed up his resume reel, and deepened his career ambitions.
Now as an M.F.A. student, he teaches the same 3-D animation course to undergraduates that sparked his own passion years ago.
After commencement, Yourshaw is headed back to Los Angeles to work on film and television projects with Gradient Effects, an award-winning international visual effects house, where he spent the last two summers working as a junior CG artist on such projects as "Stranger Things," "The Revenant," and the TNT series "The Last Ship."
But he's also keeping his options open to pursue fun freelance work that allows him to use his talents in areas ranging from lighting and rendering to motion graphics, 3-D effects, virtual reality, and interactive game design.
"I loved the School of Visual Arts and the freedom that it gave me," he said. "Having big university amenities but the intimacy of a small school was a huge advantage. One of the benefits is the 'toys' I get to play with as a student, like our incredible motion capture software. To go from a broad education in traditional drawing, ceramics, painting, sculpture, art history, and to be able to apply all of that in the realm of visual effects and 3-D has been invaluable."