Virginia Tech alumna to lead F/A-18F Super Hornets over Lane Stadium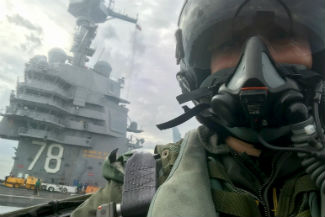 During her military career, U.S. Navy Cmdr. Stacy Uttecht has done everything from flying with a F/A-18 Super Hornet demonstration team to commanding a fighter squadron.
On Saturday, the 2000 graduate of the Virginia Tech Corps of Cadets will add a new accomplishment to that list as she leads a team of F/A-18F Super Hornets over Lane Stadium at the start of the homecoming football game.
"It will be an honor to represent my service and to show Naval air power at my alma mater," said Uttecht, who earned a degree in business management from the Pamplin College of Business. She is the commander of Strike Fighter Squadron 32, the "Fighting Swordsmen," at Naval Air Station Oceana in Virginia Beach, Virginia.
The F/A-18 Super Hornet is the Navy's primary strike aircraft. The twin-engine, supersonic, all-weather fighter jet is capable of landing and taking off from an aircraft carrier. It has a top speed of 1,190 mph and a range of more than 2,000 miles.
The other aircrew will be: Lt. Cmdr. Elliott Shoup, who graduated from Virginia Tech in 2002 with a degree in aerospace engineering; Lt. Cmdr. Sean Reed, who earned a degree in political science in 2006; Lt. Alex Mickle, who earned a degree in mechanical engineering in 2013; as well as Lt. Cmdr. Kevin Swift and Lt. Ryan Furtner.
The flyover is jointly sponsored by the corps and the Athletics Department. It is subject to change based on weather and operational barriers.