Virginia State Police captain earns Lifetime Achievement Award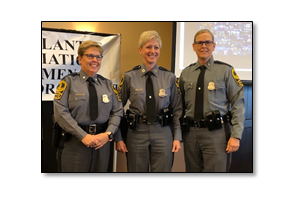 Virginia State Police Capt. Tricia W. Powers is the 2019 recipient of the esteemed Mid-Atlantic Association of Women in Law Enforcement's (MAAWLE) Lifetime Achievement Award. Powers was recognized this week at the 33rd Annual MAAWLE Conference in Poconos, Penn.
"Throughout her 25-year law enforcement career, Captain Powers has consistently distinguished herself through outstanding accomplishments, leadership and contributions not only to the Virginia State Police, but to the nation," said Col. Gary T. Settle, Virginia State Police Superintendent. "With a proven record of success, through partnership, engagement and communication, Captain Powers has embraced new challenges and continues to exceed expectations and provide deliverables that have enhanced the overall capabilities of the Virginia State Police. We are excited for her to be selected for this prestigious and most deserving recognition."
Powers began her career with the Virginia State Police (VSP) on Nov. 1, 1993. During the course of her career, she has worked as a special agent in the Department's Drug Enforcement Section and Fugitive Apprehension Unit. During these assignments, she also achieved the DEA Site Safety Officer Certification for meth lab processing/investigations and acted as the lead investigator on several methamphetamine lab investigations in the Tidewater area. As first sergeant, she supervised and directed investigations for the Insurance Fraud and Auto Theft programs within the Bureau of Criminal Investigation's (BCI) Chesapeake Field Office. Later she served as the Area 32 Commander in the Norfolk/Virginia Beach area and supervised the third busiest VSP Area Office in the state within the Bureau of Field Operations (BFO).
Upon her appointment to lieutenant, she transferred to the VSP Bureau of Field Operations (BFO) Richmond Field Division. In September 2016, she was promoted to her current rank of captain and became the commander of the Criminal Justice Information Services Division (CJIS). The CJIS Division is in charge of the Central Criminal Records Exchange (CCRE), Virginia Criminal Information Network (VCIN), Live Scan, IBR/UCR annual crime report, Sex Offender Registry, Automated Fingerprint Identification System (AFIS) and the Firearms Transaction Center (FTC). Powers oversees approximately 250 sworn and civilian personnel assigned to the CJIS Division.
She is a 2012 graduate of the FBI National Academy and she is currently First Vice President on the Board of Directors, FBI National Academy Associates Virginia Chapter. She also represents Virginia as the FBI CJIS Systems Officer (CSO) and is responsible for the administration of the CJIS network with CJIS System Agencies (CSA).
The MAAWLE Lifetime Achievement Award is presented to a law enforcement professional with at least 15 years of experience, who has distinguished herself through outstanding accomplishments and contributions spanning her career in law enforcement. MAAWLE is a professional organization of law enforcement officers and individuals promoting women in law enforcement working or residing within the states of Delaware, Maryland, New Jersey, Pennsylvania, Virginia, and Washington, DC.
Comments