Virginia companies exhibiting at Fancy Food Show in New York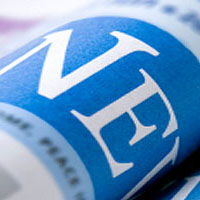 The Virginia Department of Agriculture and Consumer Services (VDACS) is hosting a Virginia Pavilion at the Summer Fancy Food Show, June 29–July 1, 2014, at the Jacob Javits Convention Center in New York City. At least 31 specialty food companies that participate in the Virginia's Finest® trademark program will exhibit at the trade show.
Organized by the Specialty Food Association, the Summer Fancy Food Show is North America's largest specialty food and beverage event. Amid record demand for specialty food, this year's show is expected to attract 28,000 buyers, including international delegations and top names in retail and restaurants. Virginia foods featured at this year's show include peanuts and peanut products, apples and apple products, biscotti, cured meats, chips, crackers, confections, cakes, coffee, pasta, popcorn, preserves, salsas, sauces, syrups, seasonings, soups and more. The Virginia Pavilion will be located in booth spaces 4900-4933, with VDACS in booth 4907.
VDACS promotes Virginia's specialty food products at the Fancy Food Shows, which highlight the world's finest food and beverages. More than 2,400 exhibitors from across the globe will feature 180,000 products at this year's summer show.
This year marks the 25th anniversary of the Virginia's Finest® program. Developed in 1989 by VDACS, the program identifies, differentiates and promotes top-quality agriculture and specialty food and beverage products.
For more information on the Summer Fancy Food Show, visit https://www.specialtyfood.com/fancy-food-show/summer-fancy-food-show and follow the show's official social media hashtag #SFFS14. Show logos and photos are available through the online newsroom.
The list of Virginia exhibitors follows.
2014 Summer Fancy Food Show
Virginia Exhibitors
VIRGINIA PAVILION Booth #4923
Abuelita Mexican Foods                                                                                
S&K Industries, Inc.                                     
Product(s): Corn tortillas, taco shells, chips
Peggy Suarez, Steve Dill
9209 Enterprise Court, Manassas Park, VA 20111
Phone:  703.369.0232, mobile: 703.403.7226
Fax: 703.369.0875
E-mail: psuarez@abuelita.com; sdill@abuelita.com
Website:  abuelita.com
VIRGINIA PAVILION Booth #4904
Belmont Peanuts of Southampton, Inc.
Product(s): Virginia Peanuts and peanut products
Patsy Marks, Robert Marks, David Peck
23195 Popes Station Road, Capron, VA 23829
Phone:  800.648.4613; 434.658.4613
Fax: 434.658.3241
E-mail: info@belmontpeanuts.com; patsymarks@belmontpeanuts.com
Website:  belmontpeanuts.com
VIRGINIA PAVILION Booth #4906B
Biscotti Goddess
Product(s): Gourmet biscotti in both traditional
and gluten-free varieties
Wheeler Wood
12500 Eagles Nest Road, Charles City, VA 23030
Phone:  855.745.9490
Fax: 804.829.2119
E-mail: wheeler@biscotti-goddess.com
Website:  biscotti-goddess.com
VIRGINIA PAVILION Booth #4914
Blue Crab Bay Co./Bay Beyond
Product(s): Peanuts, beverage mixers, soups,
seasonings, condiments, dip kits, blue crab stoneware
Pamela Barefoot, Beth Scott, Amy Savona
29368 Atlantic Drive, Melfa, VA 23410
Phone:  800.221.2722, ext. 3; 757.787.3602
Fax: 757.787.3430
E-mail: sales@baybeyond.net; beth@baybeyond.net
Website:  baybeyond.net
VIRGINIA PAVILION Booth #4921
Bone Doctors' BBQ LLC
Product(s): Premium, all-natural, gluten-free BBQ sauces,
hot sauce and spice blend, with no corn syrup,
high fructose corn syrup, additives or preservatives
David Heilbronner, Bruce Wilhelmsen
718 Cargil Lane, Charlottesville, VA 22902
Phone:  434.296.7766
Fax: 434.202.0557
E-mail: sales@BoneDoctorsBBQ.com; david@bonedoctorsbbq.com
Website:  BoneDoctorsBBQ.com
VIRGINIA PAVILION Booth #4925
CakeLove (Web's Cakes – VA, LLC)
Products: Cake & Icing – layers of cake and cream cheese icing in a jar
Warren Brown
4150 Campbell Avenue, Ste. 105, Arlington, VA  22206
Phone:  703.933.0099
E-mail: warren@cakelove.com
Website:  cakelove.com
VIRGINIA PAVILION Booth #4908
Cassandra's Gourmet Classics/Island Treasures Gourmet                                                                          
Product(s): Gourmet rum cakes and coffee cakes in several flavors
Cassandra Craig
10681 Wakeman Ct., Manassas, VA 20110-2026
Phone: 703.590.7900; 703.615.2253
Fax: 703.232.1097
E-mail: ccraigcgc@yahoo.com
Website:  islandtreasuresgourmet.com
VIRGINIA PAVILION Booth #4922
Dizzy Byrds, LLC                                                                                         
Products: Willie Byrd Dark Chocolate Sauce, Willie Byrd
Dark Sea Salt Caramel Chocolate Sauce, Willie Byrd Dark
Espresso Chocolate Sauce, Willie Byrd Dark Peppermint
Chocolate Sauce
Ann Colby
532 St. Albans Way, Richmond, VA 23229
Phone:  804.282.7373, 866.643.Byrd (2973)
Fax: 804.285.8891
E-mail: annrc@me.com, info@williebyrdsauce.com
VIRGINIA PAVILION Booth #4924
Double Premium Confections
Product(s): Candy, chocolates, chocolate bars, chocolate truffles,
Candy decorations, caramels
Bailey Kasten
P. O. Box 9607, Arlington, VA  22219
Phone:  202.495.1884
E-mail: info@dpconfections.com
Website:  dpconfections.com
VIRGINIA PAVILION Booth #4900
S. Wallace Edwards & Sons                                                                           
Product(s): Traditional dry-cured, hickory-smoked
country hams, bacon and sausage
Keith Roberts
P.O. Box 25, Surry, VA 23883
Phone:  757.294.3121
Fax: 757.294.5378
            E-mail: kroberts@edwardsvaham.com
Website:  edwardsvaham.com
Booth #4400
FERIDIES                                                                                                     
Product(s): Extra-large gourmet, Virginia peanuts in savory all-natural flavors;
Peanut brittle crunch, honey roasted peanuts, chocolate covered peanuts and
Chocolate covered peanut brittle; salted in the shell; trail and snack mixes;
gift assortments and seasonal packaging
Jane Riddick-Fries, Ted Fries
28285 Mill Creek Drive, Courtland, VA 23837
Phone:  866.732.6883
Fax: 757.653.9530
E-mail: jfries@feridies.com
Website:  feridies.com
Booth #370
Firehook Bakery
Product(s): Firehook Baked Crackers
Joseph Roberts
14701 Flint Lee Road
Chantilly, VA 20151
Phone:  888.580.0745; 703/519-8020
Fax: 703/342-4345
E-mail: info@firehook.com; joseph@firehook.com
Website:  firehook.com
VIRGINIA PAVILION Booth #4933
Gearharts Fine Chocolates
Product(s): Pod and Vine fine chocolates
Tim Gearhart, Matt Gearhart, Bill Hamilton
416 West Main Street, Unit C, Charlottesville, VA 22903
(also located at 306 B. Libbie Ave., Richmond, VA  23226; 804.282.1822)
Phone:  434.972.9100
Fax: 434.972.9104
E-mail: info@gearhartschocolates.com; Richmond@gearhartschocolates.com(for Richmond location)
Website:  gearhartschocolates.com
VIRGINIA PAVILION Booth #4903
Gunther's Gourmet Groceries, LLC
Product(s): Award-winning, all-natural salsas, marinades,
vinaigrettes, dips and hot sauce
Michael Lampros
P.O. Box 18215, Richmond, VA 23226-8215
Phone:  804.240.1796
Fax: 804.747.4813
E-mail: chefmike@gunthersgourmet.com
Website:  GunthersGourmet.com
VIRGINIA PAVILION Booth #4920
Jody's Inc.
Product(s): Gourmet popcorn
Jody Wagner, Jeff Bodenhamer, Michael Katz
1160 Miller Lane, Virginia Beach, VA 23451
Phone: 866.797.5639; 757.422.8646
Fax: 757.425.0059
E-mail: Jody@JodysPopcorn.com
Website:  JodysPopcorn.com
VIRGINIA PAVILION Booth #4912
Lucy's (Dr. Lucy's)
Product(s): Gluten free, allergy friendly, baked treats, vegan,
kosher pareve, non-GMO
Kim Miller
930 Denison Avenue, Suite 101A, Norfolk, VA 23513
Phone:  757.233.9495
Fax: 757.233.9398
E-mail: kim@drlucys.com
Website:  drlucys.com
Booth #5102
Massimo Zanetti Beverage Inc.                                                                                                        
Product(s): coffee
Mary Jameson
1200 Court St., Portsmouth, VA 23704
Phone:  757.215.7300
E-mail: mjameson@mzb-usa.com
Website:  mzb-usa.com
Booth #4005
Nancy's Candy Company
Product(s): Original confections including fudge,
chocolates and truffles
Nancy Galli
P.O. Box 800, Meadows of Dan, VA 24120
Phone:  800.328.3834
Fax: 276.952.2112
E-mail: nancyscandy@embarqmail.com
Website:  nancyscandyco.com
VIRGINIA PAVILION Booth #4927
National Fruit Product Company                                                                                         
Product(s): Apple juice/cider, applesauce, sliced apples, apple butter, certified organic
Erik Johnson
701 Fairmont Avenue, Winchester, VA 22601
Phone:  479.200.4978; 540.662.3401
Fax: 540.665.4670
E-mail: ejohnson@nfpc.com
Website:  whitehousefoods.com
Booth #2854
Olli Salumeria Americana                                                                 
Product(s): Artisanal slow-cured salami
Ross Violi, III; Jennifer Johnson
8505 Bell Creek Road, Suite H, Mechanicsville, VA 23116
Phone:  804.427.7866
Fax: 804.427.7872
E-mail: rvioli@ollisalumeria.com; Jennifer@olli.com
Website:  olli.com
VIRGINIA PAVILION Booth #4906A
Pasta Valente                                                                                                 
Product(s): Shelf-stable specialty pasta
Mary Ann Valente
1223 Harris Street, Charlottesville, VA 22903
Phone:  434.971.3717
Fax:  434.971.1511
E-mail: pastavalente@gmail.com
Website:  pastavalente.com
VIRGINIA PAVILION Booth #4901
Red Rocker Candy, LLC
Product(s): Rocking Chair Mix®, cashew toffee with
white chocolate, chocolate dogwoods
Sue Charney
92B Industrial Way, Troy, VA 22974
Phone:  434.589.2011
Fax: 434.589.3649
E-mail: sue.charney@redrockercandy.com
Website:  redrockercandy.com
VIRGINIA PAVILION Booth #4915
Reginald's Homemade                                                                                              
Product(s): All-natural, salt-free, preservative-free, hand-batched nut butters
Andrew Broocker
2362B Lanier Road, Rockville, VA 23146
Phone:  804.972.4040
Fax:  804.794.2991
E-mail: reginaldshomemade@gmail.com
Website:  reginaldshomemade.com
VIRGINIA PAVILION Booth #4917
Route 11 Potato Chips                                                                                              
Product(s): Specialty potato and sweet potato chips
Sarah Cohen
11 Edwards Way, Mt. Jackson, VA 22842
Phone:  540.477.9664, mobile: 540.539.1568
Fax: 540.477.2301
E-mail: sarah@rt11.com
Website:  rt11.com
Booth #867
San-J International
Products: Gluten free Tamari soy sauce and gluten free
Tamari based products and Asian cooking sauces
Misako Binford
2880 Sprouse Drive, Richmond, VA  23231
Phone: 804.226.8333
Fax: 804.226.8383
E-mail: info@san-j.com
Website: www.san-j.com
VIRGINIA PAVILION Booth #4913
Simply Panache Products, LLC
Product(s): 'Mango Mango' Mango Preserves
Lakesha Brown-Renfro, Tanecia Willis
320 Old Hampton Lane, Hampton, VA 23669
Phone:  800.313.5613
Fax:  757.358.7062
E-mail: contact@amangoparty.com; simplypanache@aol.com
Website:  amangoPARTY.com; simplypanache.com
VIRGINIA PAVILION Booth #4902
The Crispery of Virginia, LLC                                                                     
Product(s): Gourmet marshmallow rice CRISPYCAKES
always soft and gooey-never hard and sticky;
21 flavors handmade to perfection
Judy Soldinger
2728 Sterling Point Drive, Portsmouth, VA 23703
Phone:  757.673.5234, mobile: 310.614.8066
Fax: 888.315.1442
E-mail: judy@thecrispery.com
Website:  thecrispery.com
Booth #4200
The Peanut Shop of Williamsburg
Product(s): Hand-cooked, super-extra-large Virginia Peanuts:
Milk and Dark Chocolate Peanuts, and an array of sweet and savory nuts
Michael McDonald
8012 Hankins Industrial Park Road, Toano, VA 23168
Phone:  800.831.1828, ext. 1; 757.566-0930
Fax: 757.566.1605
E-mail: Sales@thepeanutshop.com
Website:  thepeanutshop.com
VIRGINIA PAVILION Booth #4905
Toms Moms Foods, LLC                                                                                
Product(s): Toms Moms All Natural Pancake Syrup in
Apple Harvest, Cinnamon Vanilla, Red Raspberry and
Wild Blackberry
Andy Humphries
5914 Grisby House Court, Centreville, VA 20120
Phone:  614.716.9439
E-mail: andy@tomsmomsfoods.com
Website:  tomsmomssyrup.com
Booth #359
Virginia Chutney Co.
Product(s): Spicy plum, hot peach, mango, cranberry, fig chutneys, and pepper jelly
Clare Turner
113A Aileen Road, Flint Hill, VA 22627
Phone:  540.675.1984
Fax: 540.675.1985
E-mail: clare@virginiachutney.com
Website:  virginiachutney.com
VIRGINIA PAVILION Booth #4926
Virginia Diner, Inc.
Product(s): Specialty nuts and confections; collegiate licensed nuts
Scott D. Stephens
322 West Main Street, Wakefield, VA 23888
Phone:  757.899.6213
Fax: 757.899.2281
E-mail: sstephens@vadiner.com
Website:  vadiner.com
VIRGINIA PAVILION Booth #4907
Virginia Department of Agriculture and Consumer Services
Services: Promotional and marketing assistance for Virginia producers
Programs: Virginia's Finest and Virginia Grown
UVA Basketball Fans!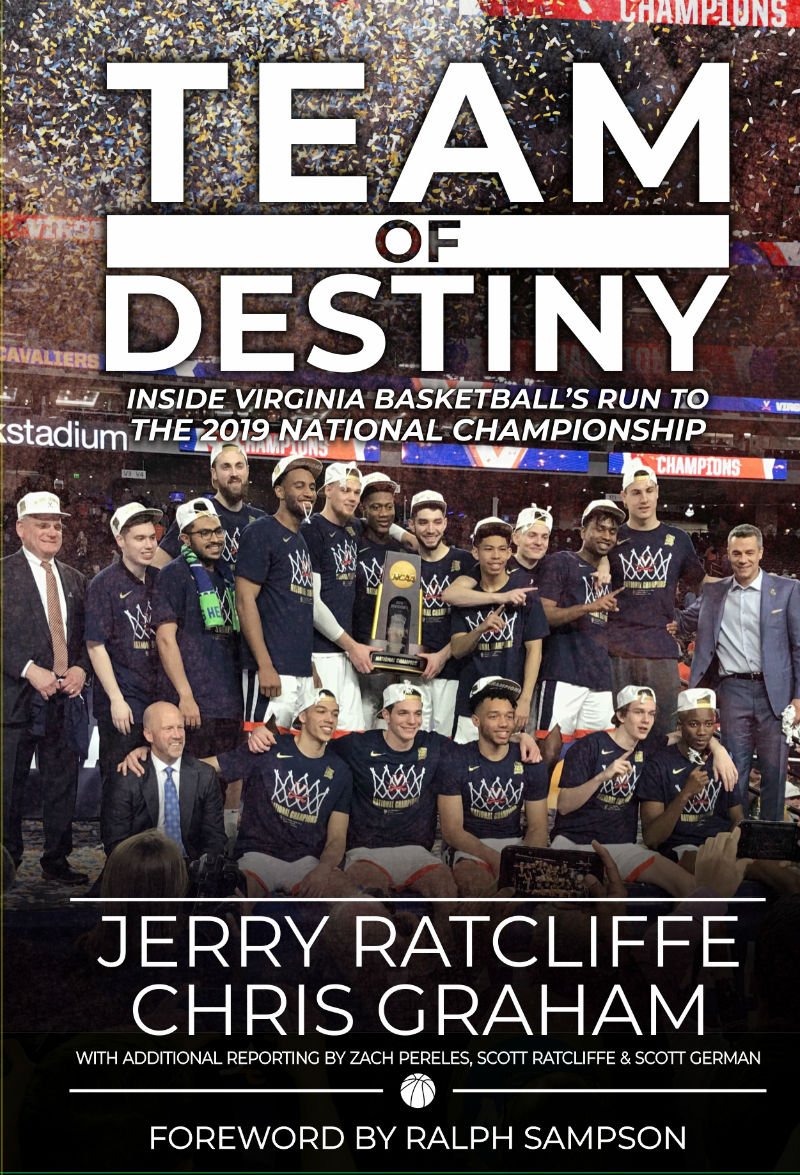 Team of Destiny: Inside Virginia Basketball's Run to the 2019 National Championship
, by Jerry Ratcliffe and Chris Graham, is available for $25. The book, with additional reporting by Zach Pereles, Scott Ratcliffe, and Scott German, will take you from the aftermath of the stunning first-round loss to UMBC in 2018 through to the thrilling overtime win over Texas Tech to win the 2019 national title, the first in school history.
Dick Vitale on Team of Destiny:
"This is a hoops story you will LOVE! Jerry and Chris capture the sensational and dramatic championship journey by Tony Bennett and his tenacious Cavalier team. UVA was Awesome Baby and so is this book!"
Ralph Sampson on Team of Destiny:
"Jerry and Chris have lived and seen it all, even before my time. I highly recommend this book to every basketball fan across the globe. This story translates to all who know defeat and how to overcome it!"
Feedback from buyers:
"Got the Book in the Mail Saturday, and could not put it down! Great read and great photography as well! Love all of the books I've received, but hands down, this is my favorite!" – Russell
Buy here.
Comments