Virginia basketball will be better for this: But it's going to hurt for a long time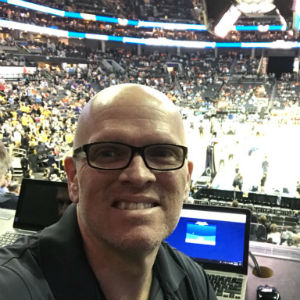 The critics who couldn't wait for Virginia to lose in the NCAA Tournament because of their deep-seated belief that Tony Bennett's system can't win in March are having their moment right now.
See, we were right, they're crowing. As good as this UVA team was this season, Maryland-Baltimore County, of all teams, exposed the fraud that we've been telling you about.
Virginia beats teams in the regular season because they put out max effort, but when the NCAA Tournament rolls around, everybody puts out max effort, and that evens things up and leaves UVA teams vulnerable.
They win with defense, except their defense doesn't feature a shot-blocker or force turnovers, instead focusing on getting opponents to take an endless array of tough shots.
And their offense, sure, it can be efficient in the regular season without a back-to-the-basket scorer, grinding teams through the repetitive and exhausting flurry of screens and rolls and fades and pick-and-pops.
But what happens when the motion offense isn't working, and there isn't a Malcolm Brogdon or Justin Anderson to just take a game over? Or when a guy, or an entire team, goes bonkers from three for 20 minutes, and then the Pack Line starts to float out to the arc and opens up driving lanes to the rim?
You can go 31-2, win 20 of 21 in the ACC, and then lose to a commuter school.
I'm not here to pat you on the head and tell you that the critics are just mean, that it's all going to be alright, that there will be joy in the morning, that this will serve as motivation for the players and coaches to work harder and get better, that we will magically be better for this as a result.
For now, for a while, the critics are right, and we need to shut up and accept that.
I've covered ACC basketball for more than 20 years, and followed the ACC with whatever analytical eye I can claim to have since the beginning of the Raycom era when I was in elementary school.
I don't think I've ever seen an ACC team have a more dominant season than Virginia did in 2017-2018, and I have some numbers to back me up.
First, the 20 wins, an ACC record, yes, in part because the schedule has 18 regular-season games, but no one had ever gone 17-1 in an ACC regular season before, and this year's UVA team surpassed the 2013-2014 and 2014-2015 teams' 16-2 regular seasons to get there.
Eleven of the 20 wins were by double-digits. In five of the games, Virginia never trailed; in three more of the wins, the 'Hoos trailed for 1:38 or less, and in 18 of the 21 conference games Virginia led for at least 24:15 of game time.
By my count, and my math may not be exact, because we drove home from Charlotte last night after the game, my head hitting the pillow after 7 a.m., and I'm writing this on about an hour and a half of restless sleep, Virginia led for 617:47 of its 845 minutes in ACC games, 73.1 percent, and trailed for just 159:17, 18.9 percent.
The loss was to Virginia Tech, by one in overtime, in a game UVA led by five with 30 seconds left, and the Hokies won on a layup off a loose ball with six seconds remaining – and Virginia had a last shot to win both in regulation and the OT.
Six seconds, two last-second misses, from a perfect ACC season.
I assumed that this was all prelude to this Virginia team joining recent the UNCs, Dukes and Marylands of recent vintage of dominating ACC teams winning national titles.
What turned out to be this team's final win, the ACC Tournament title game victory over North Carolina,  may have been the most impressive of them all. The Tar Heels, the defending national champs, had lost by 12 in Charlottesville in January, shooting 29 percent from the floor, getting just six points from first-team All-ACC forward Luke Maye, committing 19 turnovers that led to 25 UVA points.
In the final, the Heels, fresh off beating Duke a night earlier, shot 40 percent, got 20 from Maye, committed just nine turnovers leading to just 10 Virginia points, and still lost by eight.
This was a Virginia team running on all cylinders heading into March Madness, basically. And then, yes, bad news, in the form of the loss of De'Andre Hunter, the ACC Sixth Man of the Year, to a broken wrist that he suffered in the ACC Tournament semifinal win over Clemson, ran the risk of slowing the roll.
But, and we all know this, Hunter isn't the difference between Virginia going 31-2 and winning 20 games in the ACC and losing to the America East AQ by 20.
Specific to the loss to UMBC, I don't know how obvious this was to those who watched on TV, but it seemed to me watching it in the arena that the team was distracted by something, and I'm not sure if we will ever know what it was.
Was it Bennett's decision to shelve Hunter, who he said this week could have played, and wanted to play, that somehow caused some sort of division among players who wanted to see Hunter out there and those who backed the coach in his decision to sit Hunter for what you'd have to agree was the kid's long-term good?
I'm hearing that speculation from some, and I don't buy that. Having been around this program for several years, I've had the fortune to get to see a little bit of how they interact with each other, and how the program approaches doing what it does. I have come to thinking to myself that the team, following the lead of its detail-oriented coach, treats games like business meetings, because the focus that I've seen from Virginia teams in the Bennett era is akin to the one that I see in my day job as a business consultant working with developers, construction companies and government agencies.
Dating back to the first great UVA team of the Bennett era, the 2013-2014 team that featured future NBA players Malcolm Brogdon, Joe Harris, Justin Anderson and London Perrantes, basketball is business, and the players all have their assigned roles to get the job done, and each steps up to do his part, and every group dating back to that first one is successful because they trust each other to do what they're asked to do.
That's how, in basketball terms, the Pack Line works, how the mover-blocker offense works, not five fingers poking, slapping, reaching, but like a fist, punching.
Whatever happened this week, Virginia, in the loss to UMBC, was not a fist, but five fingers. The box score at the half had UVA, which had assists on 55.7 percent of its field goals in conference play this season, recording exactly zero assists on its nine made baskets.
Zero. None.
The motion offense was anything but, with the usual flurry of guards running off screens to get open looks from the perimeter and seams to dribble drive into the lane or to pass to cutting bigs replaced by dribbling and passing around the perimeter and late-shot-clock heaves.
But the D at least held in the first half, which ended in a 21-21 tie. The Pack Line, shockingly, broke apart at the seams in the second half, which began with the Retrievers hitting four of their first five from three-point range.
Virginia, as a team, seemed to panic at this stage, defenders drifting out to the three-point line, opening up seams in the Pack Line, and UMBC exploited them to the tune of going 10-of-13 on shots in the paint in the second half.
Suddenly what is the strength of Virginia basketball, the possession-by-possession approach that bludgeons opponents into submission, to the point, memorably, where even Roy Williams waved the white flag in the loss in JPJ in January with a minute still on the clock, and the game still relatively in reach, was turned on its side.
Faced with being on the wrong side of history, UVA started rushing shots, trying to double-team the ball, pressing full-court, anything and everything to get things going in the right direction.
Just as the hot-takers snickered would happen. That Virginia would realize that what works to rack up win after win after win in the regular season doesn't work in an NCAA Tournament.
It will work; those of us who follow the program every day know that. As hard as it is to look at next year's roster on the first weekend of an NCAA Tournament in which our team was the #1 national seed, there's a ton of talent returning. First-team All-ACC guard Kyle Guy made a quantum leap from year one to year two, and has yet to hit his ceiling. Ty Jerome also made huge strides in his sophomore season, and will be better.
Assuming Hunter doesn't test the NBA waters, expect him to be a breakout star in ACC play in 2018-2019, an early top contender for the conference player of the year award.
Maybe Hunter moves into the backcourt to replace Devon Hall at the three, and if so, you'll see Mamadi Diakite and Jay Huff fight to replace Isaiah Wilkins at the four. Or if Bennett goes with Hunter as a stretch four, then Diakite and Huff battle for bench minutes in the frontcourt, and you have Marco Anthony as the top candidate to get the three spot, with Francesco Badocchi in line for minutes off the bench in the backcourt.
What you have there is a rotation with a load of talent – five four-star high-school recruits, one of them a McDonald's All-American – and a program with a huge chip on its shoulder.
You can rest assured that every time these guys hit the gym this spring, this summer, this fall, into the winter, to lift weights, to run, to hoist jumpers, they will get to the point where they would normally call it a day, and the memory of UMBC will come to the front of their minds, and they will do a few more sets, run a few more sprints, throw up a few more jumpers.
They will be better for this, ultimately, but saying that, it's hard to imagine that they can repeat what they did this year, going 31-2 in advance of Selection Sunday.
And even if they do, and this time next year, we're looking at Virginia as an ACC champ, a #1 seed, you know what the haters are going to say.
Sure, this team was 29-3 or whatever this year, but wasn't last year's team 31-2, and didn't those 2014, 2015 and 2016 teams win a bunch of games and ACC titles and get #1 and #2 seeds, and didn't they flame out in March because what they do to win games from November to early March doesn't work when it really matters?
Hard as it is to accept, they're right until they're not right.
Column by Chris Graham