Virginia basketball coach Tony Bennett named Associated Press coach of the year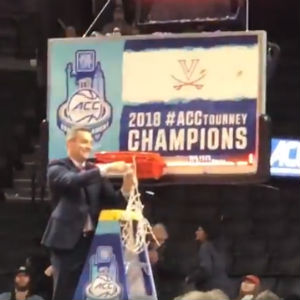 Virginia basketball coach Tony Bennett was named the Associated Press Men's College Basketball Coach of the Year.
Bennett, who earned his second career AP national coach of the year honor, led Virginia to the ACC regular-season championship, ACC Tournament title and school-record 31 wins in 2017-18.
This season, Virginia was picked sixth in the ACC in the preseason and was unranked in the national preseason polls. But under Bennett, the Cavaliers nearly swept their conference schedule (17-1) while earning a third outright ACC regular-season title in the last five seasons and third ACC Tournament title in school history. Bennett guided UVA to its first No. 1 ranking since 1982 and the Cavaliers became only the fourth team in the Top-25 era (1990-present) to earn a No. 1 ranking after being unranked in the preseason (Kansas, 1990; Syracuse, 2010; and Baylor, 2017).
Bennett is 219-86 (.718) in nine seasons at Virginia and 288-119 (.708) in 12 seasons overall. He has guided the Cavaliers to a school-best seven straight 20-win seasons and five straight NCAA Tournament appearances.
Bennett earned his first AP men's college basketball coach of the year honor at Washington State in 2007.