Virginia 4-H Horse Judging team wins national championship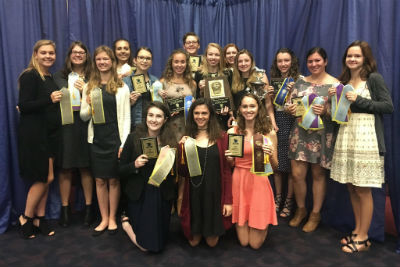 The Virginia 4-H Horse Judging team won first overall at the Eastern National 4-H Horse Judging Contest in November.
"Winning the national contest means so much to this team. I knew at the beginning of the year they had the talent to do it, and they worked tirelessly every week to make sure they were ready for the challenge of Eastern Nationals," said Leona Ransdell, the coach of the Horse Judging team.
The Eastern National 4-H Horse Roundup is held annually in Louisville, Kentucky. The event allows 4-H'ers to compete nationally in several contests, including Horse Judging, Hippology, Horse Bowl, and Horse Communications. This year, 306 youth from 26 states competed. For the Virginia 4-H Horse Judging team, this was their biggest and most important contest to date.
Team members Charlotte Manvell, 17, of Fredericksburg, Virginia; Ruth Martin, 16, of Check, Virginia; Sarah Seay, 16, of Louisa, Virginia; and Caitlyn Russ, 17, of Palmyra, Virginia, each placed high individually, demonstrating the skills they've worked hard to cultivate through practice and competition. They were scored in three areas: halter class judging, performance class judging, and oral reasons. They placed first in halter, first in performance, and third in reasons, taking home the first overall.
Virginia 4-H had 16 total competitors at the Roundup, all placing well in their competitions. The Horse Bowl team of Taryn Cowles, Emma Hartman, Katie Define, and Hannah Beaver placed ninth overall. In Hippology, the team of Nikki Novak, Adela Novak, Peyton Freeman, and Claire Edwards placed 10th overall. The Virginia Communications team placed ninth, with Caroline Perkins competing in Public Speaking, Kate Hudson competing in Individual Presentation, and Camryn Madagan and Brenna Hathaway competing in Team Presentation.
4-H grows confident young people who are empowered for life today and prepared for the world of tomorrow. The research-backed 4 H experience teaches young people who are four times more likely to contribute to their communities, two times more likely to be civically active, and two times more likely to make healthier choices. 4-H reaches nearly 6 million young people across the country. The 4-H horse program in America has an enrollment of more than 260,000, the largest of all the animal-oriented 4-H projects.