UVA coach Tony Bennett named USBWA District III Coach of the Year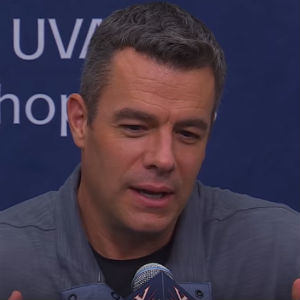 Virginia head coach Tony Bennett was named the 2018 USBWA District III Coach of the Year, announced by the organization on Tuesday. Kyle Guy (Indianapolis, Ind.) and Devon Hall (Virginia Beach, Va.) were named to the All-District III Team.
This is the fifth time Bennett has earned USBWA District coach of the year and fourth time in five years. On Sunday, Bennett earned his third ACC coach of the year honor after guiding Virginia to its third outright ACC regular-season title in the last five years. The Cavaliers, who were predicted to finish sixth in the ACC and unranked in the preseason national polls, have posted a 28-2 overall record and league-record 17-1 mark en route to their first No. 1 ranking since 1982.
Guy, who picked up his first all-district honor, is averaging a team-best 13.9 points per game for top-ranked Virginia. He has drilled 74 shots from 3-point range to rank sixth in the ACC and is shooting 87 percent from the free throw line. Guy has reached double-figures in 24 games, including a career-high 29 against VCU. He has led Virginia in scoring in 11 games, including 22 points against Syracuse (1/9/18) and Louisville (1/31/18). Guy has increased his scoring average by more than six points after averaging 7.5 points as freshman in 2016-17.
Hall earns his first All-District honor after averaging 11.9 points, 4.4 rebounds and 3.2 assists. Hall is shooting a team-best 44.7 percent from 3-point range and leads the ACC in assist-to-turnover ratio at 3.31. Hall reached double figures in 13 league games, including a career-high 25 points against NC State. Hall chipped in 25 steals this season and is UVA's top perimeter defender. He was named to the Second Team All-ACC and All-ACC Defensive Team.