UVA Basketball has made me push my boundaries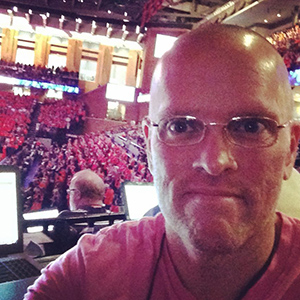 I'd never been to New York City before, but when the UVA Basketball team was on its way to Madison Square Garden for the Sweet Sixteen in 2014, it was meant to be.
My wife, I remember, wouldn't let me go alone. We're small-town people, and she assumed that I would get eaten alive in the Big Apple.
So, she insisted on going, and, spoiler alert, the 'Hoos lost to Michigan State in that Sweet Sixteen game.
We ended up liking New York so much that we stayed for a couple of more days, went back that November for a tournament in the Barclays Center, getting there a day early so that we could take in the Macy's Thanksgiving Day parade, and now NYC is something we do at least once a year.
I've seen Hamilton twice and run the New York City Marathon because of UVA Basketball, is another way to look at it.
Now UVA hoops is getting me to push my boundaries in another, potentially bigger, more life-changing, way.
I hate flying, to the point that I won't fly, haven't for 20 years.
Well, the Final Four is in Minneapolis, which, long drive.
The only way I'm going to get there is by plane.
I'm going.
I mean, I don't like to fly, but I'm not missing UVA's first Final Four in 35 years.
I half-hoped the folks in media relations wouldn't credential us, so I wouldn't have to, you know, grow as a person.
I'm going to be growing as a person, out to Minnesota and back.
Added bonus: my wife's hometown is an hour south of Minneapolis.
We're going to a family cookout on Sunday, when it's forecast to be 66 degrees, about 65 degrees above normal for this time of year, give or take.
We may have never had another excuse to go.
So, now, because of UVA Basketball, we're getting Crystal back home, getting me out there to see where she grew up.
Getting me on a plane.
I've run the biggest marathon in the world, literally touching with my feet all five burroughs of New York City, a place I'd never have visited without some prompting.
This doesn't happen when your team is in the CBI.
Column by Chris Graham
Comments