Urban computing program provides Ph.D. students with valuable skills to address problems faced by cities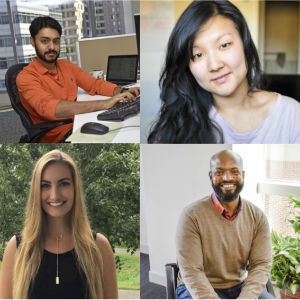 As increasing numbers of people move to cities and become more wired and networked, Ph.D. students across various academic disciplines at Virginia Tech are joining together to focus on how data science can help them find solutions to urban problems.
For sociology major Stacey Clifton, of Martinsville, Virginia, the UrbComp certificate program is providing an added edge to her research in criminology, which includes police socialization and subculture, and community, evidence-based, and predictive policing.
"Applying data science has influenced my approach to problems by allowing me the opportunity to utilize various concepts that I would previously have disregarded," Clifton said. "I can now see and appreciate how multiple disciplines come together to explain how certain things are occurring."
Her co-advisor, Professor James Hawdon, concurs.
"Stacey has benefited tremendously from the UrbComp program. The coursework has broadened her perspective and provided her with a new way to think about issues related to issues of policing," he said. "Because of the quantitative skills she has been sharpening in the program, she has re-framed her research. The approach she now plans to take will provide novel and rich insights into the networks of the police subculture."
Computer science major Nikhil Muralidhar, of Fairfax, Virginia, also credits the program with benefiting his research. "Interdisciplinary programs like UrbComp allow researchers to collaborate with people who bring different research perspectives to address the same problem," he said. "It is very often the fusion of these different research perspectives – from supposedly disconnected disciplines – that leads to the development of novel and impactful research contributions."
Muralidhar works in the field of data mining for the smart grid, specifically analyzing multivariate time series to detect faults, irregular patterns, and anomalies.
The UrbComp certificate program is supported through a grant of nearly $3 million from the National Science Foundation Research Traineeship Program and administered through the Discovery Analytics Center.
The program draws students from Blacksburg and the National Capital Region in eight different university departments: civil and environmental engineering, computer science, electrical and computer engineering, mathematics, population health sciences, sociology, statistics, and urban affairs and planning.
"The program uses an innovative 'tapestry' curriculum for urban computing that weaves interdisciplinary issues," said Naren Ramakrishnan, Thomas L. Phillips Professor of Engineering, director of the Discovery Analytics Center, and principal investigator of the National Science Foundation award supporting the program.
"We emphasize ethical and societal issues for responsible data science and build community through interdisciplinary project teams," Ramakrishnan said. "UrbComp also stresses the importance of effective communication skills that will help our students facilitate interactions with a broad range of urban city professionals, the end consumers of data science."
Gloria Kang, of Woodbridge, Virginia, is a student in the Department of Population Health Sciences. "Digital epidemiology is an emerging field right now, but few public health students have the resources to expand beyond traditional training," said Kang.
"UrbComp has given me the rare opportunity to take all those classes I wished I had time for. I am extremely fortunate to have had such intense exposure to rigorous quantitative methods. It gives me more confidence in my own work and a greater appreciation for complex problems," Kang said.
Davon Woodard, of Kalamazoo, Michigan, a student in the planning, governance, and globalization program in the School of Public and International Affairs and a graduate research assistant at the Global Forum of Urban and Regional Resilience, has gained a number of advantages from the UrbComp program. Its unique structure has allowed him to combine his academic (economics) and professional expertise (public sector data science) with his passion (cities) and "the flexibility to reach across the university to get the academic depth and breadth necessary to understand, research, and create positive change," Woodard said.
His dissertation focuses on how to use social network and social theory to deepen the engagement of marginalized communities in the urban planning process and how to better select and engage marginalized communities in municipal services and programs.
"Data science is influencing my approach to problems because it broadens the toolkits available to ensure that citizens have a voice in how the community represents them and serves their needs," Woodard said.
Woodard's co-advisor David Bieri, associate professor in urban affairs and affiliate associate professor in economics, has seen the benefit of the UrbComp program.
"Davon's UrbComp experience has also enriched our own research process at the Financial Resilience Lab. After a recent discussion between Davon and my other UrbComp advisee, Matt Slifko, a Ph.D. student in statistics, we realized that the statistical algorithm that Matt was developing for predicting real estate prices could also be applied to one of Davon's projects, which explores metrics of 'urban financial resilience' for U.S. cities by using well-established financial accounting ratios," Bieri said.
For additional information on the UrbComp certificate program, contact Wanawsha Hawrami, UrbComp program coordinator.