UCLA grad finds home in biomedicine program at EMU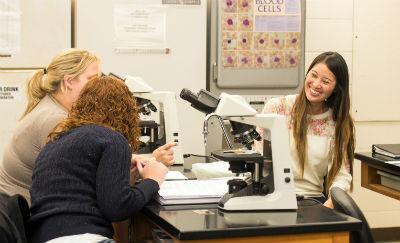 Kristie Nguyen knew that Eastern Mennonite University would be smaller than UCLA, where she'd studied as an undergraduate, and figured that life in Harrisonburg, Va., would be considerably different from Orange County in Southern California, where she'd grown up.
"[But] I didn't realize how small it was until I got here," she said, laughing. "I actually feel like I know all my profs, which is a first."
Nguyen was a part of the first class to enter EMU's new MA in biomedicine program. She graduated in the summer of 2014, after finishing up an independent study requirement. While she had always planned to become a doctor, Nguyen consciously chose a non-traditional route by majoring in anthropology at UCLA.
The MA in biomedicine program at EMU, which Nguyen discovered through an online search, offered her the opportunity to retake some undergraduate-level science classes and lay a good academic foundation for med school, she said. Dissecting a cadaver in anatomy class – an opportunity very few aspiring doctors have before their first year in med school – was one of her highlights from the two-year program.
Nguyen, who wants to be a pediatrician, began applying to medical school after finishing her coursework at EMU.
She said the prospect of moving across the country from California was both intimidating and exciting. It was also important to her to study at a Christian university, although she'd never heard of Mennonites and did wonder whether Mennonite beliefs – whatever they turned out to be – would be imposed on her.
At the end of her two-year experience at EMU, she said the worry was unfounded: "It's welcoming and it's very open."
Spending a few years in a small Virginia city provided a little extra enrichment. During her time at EMU, Nguyen notched her first visit to a pumpkin patch, stretched herself by living far away from friends and family – allowing her to focus on studying – and expanded her horizons simply by experiencing life in another part of the country.
Before she chose EMU, Nguyen had been accepted to four MA programs. She chose the newest one (EMU's), which meant she benefited from the attention given to the first set of students, but also experienced those organizational bumps typical of a newly opened program. But looking back, she says she would definitely pick EMU again.
Article by: Andrew Jenner
Photo by: Lindsey Kolb