Thirty former Obama aides endorse Tom Perriello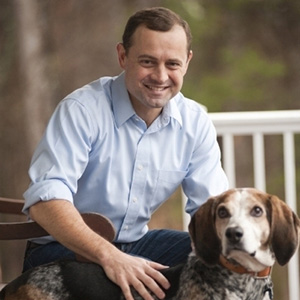 In a new letter, 30 former officials from President Barack Obama's administration and campaigns announced their support for Tom Perriello in the Democratic primary for Virginia governor. The officials include former White House Senior Advisors David Plouffe and Dan Pfeiffer, White House Political Director Patrick Gaspard, White House Domestic Policy Council Director Cecilia Munoz, White House Communications Director Jennifer Palmieri, Obama 2012 Deputy Campaign Manager Stephanie Cutter, White House Chief of Staff to First Lady Michelle Obama Tina Tchen, White House Social Secretary Julianna Smoot, and White House Office for Faith-Based and Neighborhood Partnerships Director Joshua DuBois, among others.
In this new letter, the former Obama officials write, "Tom embodies the pragmatic progressive values that President Obama fought so hard for over the past eight years." The endorsement also follows a Washington Post op-ed last week from Hillary Clinton's campaign chair and former counselor to President Obama John Podesta, in which he wrote that "Tom Perriello is offering a blueprint" for the future of the Democratic Party. These endorsements spotlight the momentum of Tom's campaign in Virginia and his ability to unite the entire Democratic Party behind his pragmatic progressive candidacy.
The letter follows recent commentary by other top Obama aides praising Tom. In January, former chief strategist for President Obama David Axelrod wrote, "Even in one term, [Perriello] was impressive force in Congress." When Tom entered the race, then-White House Press Secretary Josh Earnest said, "Perriello has served this administration with distinction. And the President did enjoy a close working relationship with him in Congress and appreciated his commitment to a set of democratic values in the context of his service in Congress. It was all too short, in the President's view." Additionally, Mitch Stewart, Obama's 2008 Virginia campaign director and 2012 battleground states director, said in January, "In vote after vote, in 2009 and 2010, he was a real profile in courage — a lot of people in the administration or close to the administration admire him for that."
In his one term in Congress, Tom was a strong ally of President Obama in the House, even though he represented a red district. Tom fought for the Affordable Care Act, supported climate change legislation, and voted for the Recovery Act to save the economy from a depression. In 2010, when many Democrats distanced themselves from President Obama, Tom campaigned with him in Virginia. Urging support for Tom on the eve of the election, President Obama said, "Let's face it, political courage is hard to come by. The easiest thing to do, especially when you're a first-term congressman — the easiest thing to do is make your decisions based on the polls. You put your fingers up to the wind, you check which way the political wind is blowing before you cast every vote. That's how a lot of folks think they should do their jobs in Washington. And that's not who Tom is." Even though Tom lost his race, the result was narrower than most Democratic losses in that wave year for Republicans.
In the new letter, the former Obama aides point to Tom's courage in supporting the Affordable Care Act, regardless of the political consequences, as evidence of his conviction to do what is right on behalf of his constituents. In 2009 and 2010, Tom held more marathon town halls than any member of Congress to explain and advocate for the Affordable Care Act directly to his constituents. Though Tom lost his election after supporting the Affordable Care Act, he recently wrote on Twitter, "It may have cost me my seat, but I've never regretted that vote. Not once."
Letter from former Obama officials endorsing Tom Perriello for Virginia Governor
Almost a decade ago, many of us joined Barack Obama's insurgent campaign for President because we believed not only in his progressive agenda, but also in his ability to inspire and organize a movement for change across the country. Today, we are prouder than ever that we joined him and worked to move our country forward.
Throughout that journey, we met a number of incredible leaders who took up President Obama's call to action and helped us deliver change for the American people. One who stood out for all of us was Tom Perriello. As former members of the Obama campaign and administration, we are proud to support Tom in his campaign for Governor of Virginia.
Tom embodies the pragmatic progressive values that President Obama fought so hard for over the past eight years. In Congress, Tom stood with President Obama — even though he represented a red district — to pass the Affordable Care Act, to support climate change legislation to protect our planet, and to help prevent a depression through the Recovery Act. Tom didn't just take these votes; he defended them and ran on them despite the tea party wave that scared others into political expediency. While many Democrats ran away from the president in 2010, Tom didn't. Tom's willingness to stand with President Obama and our administration is a testament to his courage and conviction to do good above all else. It's rare to find that in a politician. We all saw it in our former boss, President Obama, and we see it in Tom, too.
Some of us also got to work with Tom when he joined the State Department, beginning in 2014. In his first role leading the quadrennial diplomatic review, then later as the United States' Special Envoy to the Great Lakes region of Africa, we saw Tom's keen management ability and his deep commitment to justice and peace. If Tom represents Virginia with the same strength, passion and boldness as he did our country abroad, the Commonwealth will be in good hands.
The right leader at the right moment can do extraordinary good. We are at a fearful crossroads in this country. We were as disappointed as anyone to see Donald Trump, a man who represents everything we have stood against, be elected. We have also watched with horror as he has assaulted so many of the progressive gains we made. It will take strong and courageous leaders to fight back and put forth new ideas to lead our party and our people into the progressive future.
We hope Virginians and our fellow progressives will join us in supporting Tom Perriello.
Signed,
David Plouffe, former White House Senior Advisor and 2008 Obama Campaign Manager
Dan Pfeiffer, former White House Senior Advisor
Nancy-Ann DeParle, former White House Deputy Chief of Staff
Stephanie Cutter, former White House Deputy Senior Advisor and Obama 2012 Deputy Campaign Manager
Patrick Gaspard, former White House Director of Political Affairs and U.S. Ambassador to South Africa
Cecilia Muñoz, former Director of the White House Domestic Policy Council
Jennifer Palmieri, former White House Communications Director
Julianna Smoot, former White House Social Secretary and Obama 2012 Deputy Campaign Manager
Amy Rosenbaum, former White House Director of Legislative Affairs
Tina Tchen, former Chief of Staff to First Lady Michelle Obama and Executive Director of the White House Council on Women and Girls
Jon Carson, former Director of the White House Office of Public Engagement
Joshua DuBois, former Executive Director of White House Office of Faith Based and Neighborhood Partnerships
Robert Malley, former White House Special ISIS Advisor
Sarah Hurwitz, former Head Speechwriter for First Lady Michelle Obama
Buffy Wicks, former Deputy Director of the White House Office of Public Engagement
Tara McGuinness, former White House Senior Communications Advisor
Nathaniel Lubin, former White House Director of Digital Strategy
Macon Phillips, former White House Director of Digital Strategy
Andrea Purse, former White House Director of Broadcast Media
Jim Papa, former Special Assistant to the President for Legislative Affairs
Kyle Lierman, former White House Senior Associate Director of Public Engagement and Senior Policy Advisor
Lise Clavel, former Special Assistant to the President and Director of Public Engagement for Vice President Biden
Teddy Goff, former Obama 2012 Digital Director
Larry Grisolano, former Obama 2012 Director of Paid Media
Chauncey McLean, former Obama 2012 Director of Media Tracking
Christina Reynolds, former White House Director of Media Affairs and Obama 2008 Director of Rapid Response
Stephanie Valencia, former Principal Deputy Director of the White House Office of Public Engagement
Gautam Raghavan, former White House Public Engagement Advisor
Kareem Dale, former Associate Director of the White House Office of Public Engagement
Gary Lee, former Director of Planning for the White House Office of Political Strategy and Outreach
Comments