The one in which I offer criticism for Tony Bennett: And get banished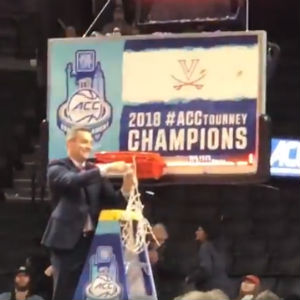 Where we are right now in Virginia basketball history: either you loudly proclaim your uncritical and undying love for coach Tony Bennett, or you're voted off the island.
I've got a few sticks together for my makeshift life raft.
Don't get me wrong, now. If I'd get an email from the UVA sports media relations folks with the subject line, "Bennett named Coach for Life," my first act would be to wish him the longevity of Methuselah, before beginning work on a column full of huzzahs for Carla Williams.
Bennett will win a national title at Virginia, then win more national titles at Virginia. The idea that his approach can't win in March is nonsense, if only looking at the recent success of a defense-first, tempo-controlling team like Syracuse, and four-year-player-dominant teams like Gonzaga, UNC and Villanova.
That said, OK, and you knew there was a that said coming, didn't you? That said, there's still some growing for Bennett to do to get his Virginia program over the hump.
And no, it has nothing to do with talent. The talent is there, and has been. Malcolm Brogdon is your reigning NBA Rookie of the Year. Justin Anderson, Joe Harris, Mike Scott, London Perrantes, all developed into Association talents under Bennett. This year's team had surefire future NBA prospects like De'Andre Hunter and Kyle Guy, a McDonald's All-American, and I'd be surprised if Devon Hall doesn't work his way onto an NBA roster this summer.
Next year's roster returns Hunter, Guy and Ty Jerome, as good as any Big Three as anybody will have in the ACC next season, plus former four-star recruits Mamadi Diakite and Jay Huff.
The pieces are there for a team capable of, if not repeating this season's magical 31-2 regular season, at  least approaching it.
The talent is there, and it will be veteran talent, with multiple years in Bennett's demanding system – the Pack Line defense that led the nation in defensive efficiency yet again this year, and the Mover-Blocker motion offense that finished the season ranked 30th nationally in offensive efficiency.
Talent plus experience usually means things will only get better, and you have to expect that they will, on the aggregate.
But success in the aggregate, over the course of 30-plus games in the regular season and in the ACC Tournament, means nothing when it comes to the small sample size that you get in an NCAA Tournament situation.
I remember leaving the Virginia Tech overtime home loss last month thinking, There's the blueprint for how to beat this UVA team. Buzz Williams uglied that game up, going with a basic pack-the-lane zone that Virginia obviously had not prepared for, and could not adjust to, settling for hoisting 38 three-point shots in the one-point loss.
Oddly, Virginia does well when it finds itself in matchups against teams that use zone as their base defense. This year, the 'Hoos swept Syracuse and won at Duke, for instance, using Hunter and Isaiah Wilkins in the middle of the lane as point forwards to key the offensive attack.
It's only when an opponent, in the form of 16 seed UMBC, does something out of the ordinary defensively that things can get bogged down.
UMBC didn't zone Virginia, but in effect out-Virginia'd Virginia, with heavy ball pressure, post doubles and aggressive approaches to screens.
Bennett responded by … not responding, at least in terms of changing tactics. Actually, there was one noticeable change in tactic coming out of one media timeout, when Bennett had the 6'5" Jerome post up 5'8" UMBC guard KJ Maura, something I'd not seen all season, and Jerome backed his man to the basket and scored.
That was the only Jerome postup that we'd see, as the focus shifted toward going back to doing what Virginia does in terms of running its motion offense.
As in the loss to Virginia Tech, it was the settling for threes that did the 'Hoos in on the offensive end. Virginia would shoot 4-for-22 from behind the arc in the loss.
On the other end, UMBC went bonkers from outside, shooting 12-of-24 from three-point range, including 7-of-12 in the second half, opening up seams in the Pack Line that allowed the Retrievers to shoot 10-for-13 in the paint in the second half.
It was the Hand of God reaching down from heaven and saying, UMBC, which we know because the Retrievers were 6-of-22 from three and shot 29.8 percent overall in their 50-43 second-round loss to Kansas State.
Their confidence had been buoyed two nights earlier by Virginia's inability to get anything going offensively, frustration that then manifest itself on the defensive end in what became a feeding frenzy of anxiety that feast upon itself over time.
The lesson to take from this result, on the heels of a run of unexpectedly early NCAA Tournament exits in recent years, is that maybe Bennett will need to add some flexibility to the offensive playbook that can allow for more in-game adjustments.
Even in the other loss this season, the Dec. 5 defeat at West Virginia, the 'Hoos were stifled by ball pressure, WVU closing down passing lanes off the screen action in the Mover-Blocker, resulting in a flurry of rushed, contested threes.
With so much invested in the motion offense, it's hard for Bennett and the staff to do much in terms of in-game adjustments, outside of trying to get a certain look from within Mover-Blocker.
Adding some flexibility in terms of something like the postup for Jerome, iso plays, some basic pick-and-rolls on different spots on the floor, some more sophisticated sets, whatever the case, would give the coaches some more ammunition to use in in-game situations where an opponent has success in taking away the base offense.
That growth in philosophy will be necessary for Virginia to achieve the breakthrough we all anticipate is to come.
Criticism, you see, doesn't have to be a negative thing. Looking at what you're doing critically and trying to get better is, honestly, the only way you can get better.
But this is coming from someone who is a subscriber to the idea that doing the same thing over and over and expecting a different result is the definition of insanity.
I'll see myself off to drifting out to sea.
Column by Chris Graham