The Bridges of Madison County Musical with live orchestra coming to Wayne Theatre stage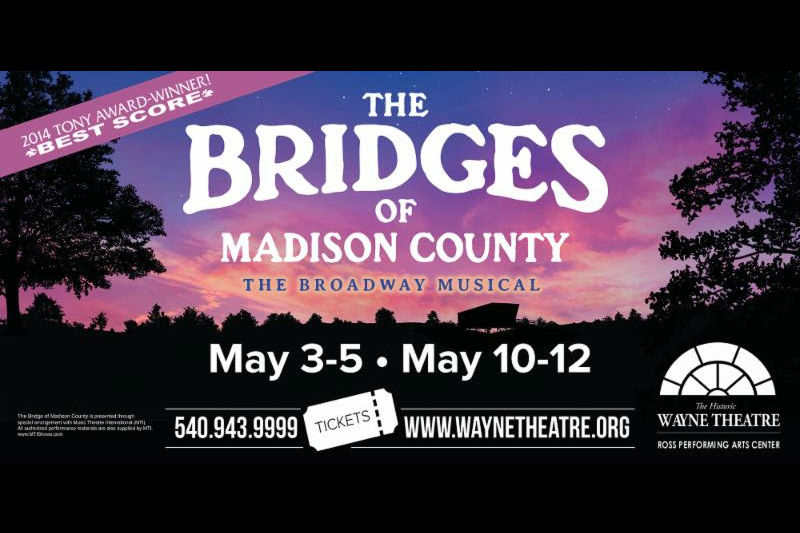 The Wayne Theatre in downtown Waynesboro presents six performances of The Bridges of Madison County Musical on May 3-5 and 10-12. Showtimes are 7 p.m. on Fridays and Saturdays, with 3 p.m. Sunday matinees.
Tickets are $22 for adults and $15 for students for each performance in our Broadway music series.
Liz Leone and Steven Anzuini headline the all-star cast of 13 with their amazing vocals.
"We are so delighted to bring this beautiful musical to the Wayne stage," said director Hank Fitzgerald. "This musical will move you to tears with a stunning Tony award-winning score and exceptional voices."
The musical will also mark the first time the Wayne Theatre has incorporated a live orchestra in the pit for one of its Broadway shows. Conducted by Sarah Cramer, the orchestra will include Christopher Nicholson on piano/keyboard, John Hoy on guitar/mandolin, Austin McClenehan on percussion, and Andrew Willett on bass/guitar/keyboard.
"The live orchestra element truly brings a new level to our Wayne productions," said Wayne Theatre executive director Tracy Straight. "The music will surely touch your soul and leave audience members breathless."
Based on the best-selling novel, and developed by the Pulitzer- and Tony award-winning creative team of Jason Robert Brown and Marsha Norman, The Bridges of Madison County captures the lyrical expanse of America's heartland along with the yearning entangled in the eternal question "What if…?" Winner of the 2014 Tony Award for Best Score and Orchestrations, this sweeping romance is about the roads we travel, the doors we open and the bridges we dare to cross. With a soaring score and a heartbreaking story, The Bridges of Madison County is touching and powerful.
The Bridges of Madison County is presented through special arrangement with Music Theatre International (MTI). All authorized performance materials are also supplied by MTI.
For more information, call (540) 943-9999 or visit www.WayneTheatre.org
Comments