More Volunteer Income Tax Assistance news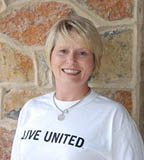 Augusta, CEO, Child Tax Credit, CHIP, Cynthia Pritchard, Mark Warner, Mark Warner D-, Representative Robert Goodlatte R-, Senators Mark, Senators Mark Warner D-, Shenandoah, Shenandoah Valley, tax, Tim Kaine D-, VA, virginia, VITA, Volunteer Income Tax Assistance
United Way of Greater Augusta CEO leads lobby effort on Capitol Hill
Cynthia Pritchard, the CEO of United Way of Greater Augusta, led representatives from Virginia's United Way organizations in Washington, D.C., to lobby Congress to help working families who may be struggling to make ends meet in the Shenandoah Valley.
CAPSAW, Extension Office, federal, High School, Individual Development Accounts, IRS, Master Financial Educator, Melissa Wolcott, Stuarts Draft High School, tax, tax assistance, taxes, VITA, volunteer, Volunteer Income Tax Assistance, winter
CAPSAW tax assistance client becomes volunteer
In 2013, Melissa Wolcott decided she was tired of paying someone to do her taxes. She knew her tax return was simple, and she knew that any of her hard-earned money was too much to spare when a free service...