Tag: Republican House
As Congress heads home to celebrate the Fourth of July, it leaves with two critical issues unaddressed. The first is the increasing – and troubling – trend of big corporations essentially giving up their American citizenship and reincorporating overseas to reduce their U.S. taxes.
---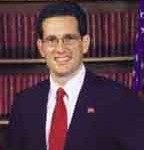 A new Public Policy Polling survey conducted in the Seventh District Tuesday night finds that both House Majority Leader Eric Cantor and the GOP House leadership are deeply unpopular in the district, even with Republican voters, and that likely led to his stunning loss in a Republican primary.
---