Tag: blacksburg va news
Halting climate change-induced crop losses could relieve pressure on farmers who are trying to satisfy burgeoning populations, Virginia Tech researchers say.
---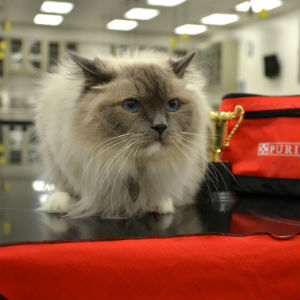 A group of students at the Virginia-Maryland College of Veterinary Medicine at Virginia Tech recently completed an animal health challenge much closer to home than their usual classroom and clinical experiences: They put their overweight pets on a diet.
---
It didn't take long for CandyBot, the latest math iPad app created by a research group from Virginia Tech, to start getting noticed. The app – designed to teach fractions and functions, among other concepts – has been downloaded more than 40,000 times since its April launch.
---