NFL
Steelers looking to get Trubisky, Johnson, Claypool to create more splash plays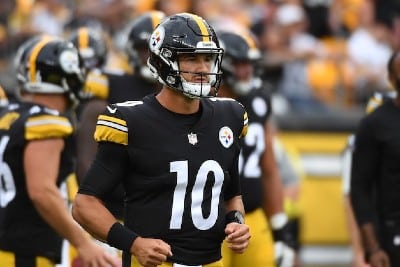 Pittsburgh Steelers offensive coordinator Matt Canada talked about wanting more splash plays back in the preseason, but two games into the regular season, the Steelers offense has been a lot of dink and dunk.
"We're really talented on the outside. We know that," said Canada. "We've got to find ways to get them the ball and get them the ball in space. We know that. They all want the ball."
New QB1 Mitch Trubisky, a former #2 overall pick, is still learning the offense, and so are a lot of other guys – right guard James Daniels and center Mason Cole are new to the team, and left tackle Dan Moore, tight end Pat Freiermuth and running back Najee Harris are all second-year players.
The unit has produced just two touchdowns through two games, a 23-20 OT win over Cincinnati in Week 1, and a 17-14 loss to New England in Week 2.
The pass game has been mostly line of scrimmage and throws inside of 10 yards – according to Pro Football Focus, 43 of Trubisky's 66 attempts.
Trubisky, according to PFF, is 9-of-23 for 164 yards, a TD and an INT on passes that travel 10+ yards through the air.
"I could take more opportunities down the field where we could get our playmakers the football. I think it's better decision-making and just taking those opportunities, for sure," said Trubisky, who is averaging just 5.1 yards per pass attempt, 32nd in the NFL.
Only the Cowboys' Dak Prescott (4.6 yards per attempt) is lower.
The Steelers are averaging 8.6 yards per catch. Only the Seahawks (8.3 yards per catch) are lower through two games.
2021 Pro Bowler Diontae Johnson, who had 112 catches for 1,195 yards and nine TDs a season ago, has 13 catches on 20 targets for 112 yards through two games this season.
Trubisky has a 58.8 passer rating on his targets to Johnson. Ben Rothlisberger had a 93.3 passer rating on his targets to Johnson in 2021.
The biggest dropoff has been seen in the numbers of deep threat Chase Claypool, who has eight catches on 11 targets for 44 yards – 5.5 yards per reception – in 2022. Last year, Claypool averaged 14.3 yards per reception.
"I like to throw the ball down the field. Why I haven't given certain looks, especially early in the games, I can't tell you exactly why," Trubisky said. "We're looking for that. I'm looking for that. Every quarterback deep down in their heart likes to throw the ball as far as they can down the field and watch their playmakers go up and get the ball. We're looking for that. We've got to look for the right opportunity, right timing. It's just having an aggressive mindset and coming down with those plays. We want to throw the ball down the yard, but we've got to be smart about it. It's all about completing it."