Top News
Staunton Rotary delivers dictionaries to area students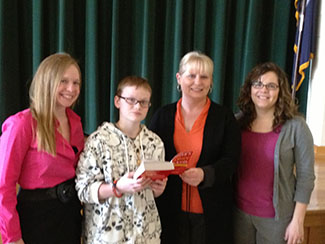 Staunton Rotary partnered with the Dictionary Project to deliver dictionaries to children in the region.
The funding for this project came from the Rotary District grant project matched with funds raised by the local Rotary.  On March 22, Staunton Rotary delivered dictionaries to all the sixth-graders at Wilson Middle School.  Each dictionary is personalized with the child's name and includes the Rotary Four Way Test.
Why dictionaries?  The dictionary project's motto is Learn to Read and Read to leader.  Per the Dictionary Project, children need their own dictionaries to be able to develop their writing and reading skills and become resourceful learners. Paperback dictionaries can give all children access to information they need to be successful in school.
The Rotarians that participated were moved by the enthusiasm and gratitude of the children receiving the dictionaries. Rotary member Cynthia Pritchard stated, "The children were as excited about the dictionaries, as they would have been for a new toy, it was great to see learning tool received with such joy."
More information on Staunton Rotary online at www.stauntonrotary.org.