Staunton Gets LOVEwork May 6-12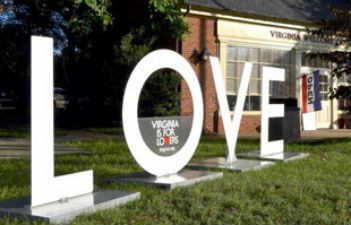 Visit Staunton, the City of Staunton's tourism department, has obtained the Virginia Tourism Corporation's LOVEwork, or love letters display, May 6 through 12 for National Travel and Tourism Week.
The display will be installed downtown between 1 and 2 p.m. today on the New Street parking garage plaza. The plaza is located at the corner of New Street and Greenville Avenue, diagonally across from the old Beverley Hotel.
The display will be part of Visit Staunton's broader social media campaign called "Share the Love; Share Your Staunton Story" celebrating tourism and all things Staunton. Throughout the week, Visit Staunton is asking locals and visitors to share their love of Staunton through pictures and words. Residents, business owners, and visitors are encouraged to visit the display, snap a photo with it and share the reasons they love Staunton on social media, using the hashtags #LoveStaunton and #LoveVA.
Stay tuned to Visit Staunton's Facebook and Twitter pages to follow and participate in the campaign and to share your own Staunton love stories.
Comments