Top News
State Police canine teams mark graduation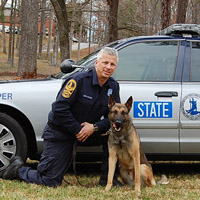 The newest canine teams from two states graduated Friday from training at the Virginia State Police Training Academy in Chesterfield County.
Each team completed 13 weeks of intensive, hands-on training to achieve graduation.The teams include both narcotics-detection canines and patrol canines. The 12 make up the largest class of teams to ever graduate from the Virginia State Police Academy, since the first class was held 51 years ago in 1961.
The canine teams include Virginia State Police and North Carolina Highway Patrol troopers, a Roanoke County Police officer, and deputies with the Washington County, Westmoreland County, and Rutherford County, N.C., sheriff's offices. Also graduating are three new Virginia State Police canine instructors/trainers.
Included among the graduates were Senior Trooper D.C. Brydge and his patrol canine, Scout. They are assigned to the Area 17 Office in Augusta County, but will respond to calls throughout the immediate area/region.