STAB computer science initiative entering fourth year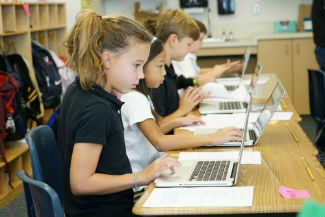 Now in its fourth year, the St. Anne's-Belfield School Computer Science Initiative has quickly made a significant impact on daily life at the School, and placed both students and educators at the forefront of national and international trends in this subject area.
Coordinated by Zach Minster in the Upper School and Kim Wilkens, founder of local nonprofit Tech-Girls, in the Learning Village, the Initiative has seen tremendous expansion across courses at the School.
"In the Learning Village, Kindergarteners have learned the fundamentals of computer science during a weekly Technology and Computing class co-taught with Michele Mathieson, and expanded computer science in math opportunities for first through fourth grade led to full classroom instruction in third and fourth grade," said Wilkens.
"Students in fifth through eighth grades have participated in projects across disciplines, integrating computer science with other subjects including science, world languages, math, and English. They have used a variety of technology creation platforms such as Scratch, Thimble, NetLogo, Audacity, MakeyMakey, littleBits, BeeBot, and more. And for all of our Learning Village visual arts students, a digital arts curriculum has allowed them to explore the intersection of art, digital tools, and online self-expression."
Enrollment in computer science courses in the Upper School continues to grow and diversify. Last year, 49 students completed Computer Science Principles; 21 elected to move to the second full-year course option, Data Structures. Students have completed independent study work on topics as diverse as data science through spatial demography, academic computer graphics and geometry, and entrepreneurship. This year, planned senior Capstone Thesis projects will consider the ongoing impact of neural networks on the world, and the potential applications of the Internet of Things on sustainable living.
The CSI has also allowed the School to engage the broader local and regional communities through a variety of events including two SPARK! Hackathons for teenagers, two Girls Geek Days for girls in Kindergarten through fourth grade, and a full complement of camps via Tech Camp @ STAB, part of the School's Summer Programs. In July 2017, the School was able to open its Learn to Learn Institute to local educators for Learn to Learn IV: Computer Science Institute chaired by Minster and Wilkens.
As the Initiative matures into the Computer Science Program, Minster and Wilkens look forward to implementing a vision that will position the School and its students for success in the digital world and throughout their lives.
"Upper School students enrolled in Software Engineering will apply the skills they developed in previous years to create an in-house solution for managing Opportunity Block enrollments, work directly with Computers4Kids to improve community outreach offerings, and design and implement impactful, original projects," said Minster.
"A new Computer Science Peer Mentoring program will connect introductory-level students on an ad hoc basis with experienced peer volunteers tasked with creating an inclusive culture of learning."
The third annual SPARK! Hackathon will take place Jan. 27 and 28, 2018. Applications for the event are now open, and must be completed by Dec. 15, 2017. Applications received after the deadline will be placed on a waitlist. To learn more, visit spark.stab.org.
Comments