St. Anne's-Belfield School's Roth, Harris earn National Geographic Educator Certification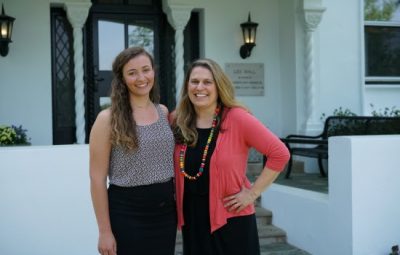 St. Anne's-Belfield School teachers Erica Roth, Grades K-8 World Language Department chair and a member of the residential life faculty, and Mary Frances Harris, Upper School science teacher, have earned the National Geographic Educator Certification.
This honor comes at the completion of the organization's professional development program designed to recognize Pre-School – Grade 12 educators committed to "inspiring the next generation of explorers, conservationists, and changemakers."
"I signed up to participate in the program because I have been looking for ways to integrate authentic language experiences in my classroom, as well as for interdisciplinary opportunities with my colleagues," said Roth. "I really appreciated the National Geographic Learning Framework, and was inspired by the stories of other educators and the opportunities for collaboration with teachers around the world."
The program consists of three parts: attending an in-person or online workshop, developing and implementing two activities related to the skills gained in the workshop, and designing a capstone project focused on student learning that also demonstrates personal growth. Roth's project was on the Recycled Orchestra of Cateura, Paraguay while Harris' tackled the physicists and mathematicians who made important contributions to the scientific community but whose identities were hidden because of cultural and economic factors. She used the book/film Hidden Figures as a starting point.
In addition to building educators' skills, the certification program helps participants to develop an explorer's mindset in students as well as design and implement interdisciplinary classroom activities that center around real-world local, regional, and global problems. Roth, Harris, and all other certified educators are now eligible for the Grosvenor Teacher Fellowship, which selects teachers annually to participate in Lindblad Expeditions voyages to destinations such as Antarctica, Greenland, and the Galapagos Islands.
Comments