Squirrels stay wide awake for late night win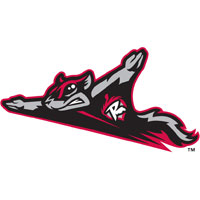 The Flying Squirrels endured a two hour, thirty-six-minute rain delay and finished off a 7-4 win over Akron at 12:06 a.m., Sunday morning at Canal Park. Richmond (24-21) evened the series with a three-hit and three RBI performance from Dylan Davis. The Squirrels Mike Connolly earned the win with four innings of relief and Patrick Ruotolo picked up his first Double-A save to secure the victory. Game three of the series is on Sunday at 6:35 p.m. Richmond returns home to The Diamond for an extended Memorial Day weekend celebration on Tuesday, May 29 with a Camo Cap Giveaway.
Following the extensive delay (first pitch was thrown at 9:11 p.m.), Richmond came out of the dugout swinging and took an early 1-0 lead. With one out in the first, Jerry Sands lobbed a double off the top of the centerfield wall and Dylan Davis brought him in with a double of his own off the track.
Davis delivered again for Richmond in a two-run top of the third. Ali Castillo worked a walk off to lead off the inning and Ryan Howard ripped a double to left centerfield. The two-bagger was Howard's 15th double of the year, placing him third in the Eastern League in the category.
The Squirrels provided a 3-0 lead for right-hander Chase Johnson. Johnson made his fourth starts of the season for Richmond and his fourth since undergoing Tommy John surgery. Johnson encountered very little trouble in the outing, lasting three innings in the no-decision. Johnson walked one, struck out one and did not allow a hit or a run.
Mike Connolly relieved Johnson in the fourth inning and was touched up for three runs in the frame to tie the game. Ka'ai Tom lashed an RBI single and Daniel Salters drilled a two-run double to make it a 3-3 contest. Akron took the lead off of Connolly with another run in the fifth. Andrew Calica worked a walk to open the inning and advanced to third on a double. With no outs, Joe Sever hit a groundball to short, scoring Calica for a 4-3 Akron advantage.
Akron starter Sean Brady lasted 5.1 innings and left the game after Jeff Arnold smacked a double into the left field corner. Nick Pasquale entered to relieve Brady and relinquished an RBI double to Richmond newcomer Tyler Brown. Brown's first Double-A hit was a double into left field tying the game, 4-4. The double gave Brady a no-decision in the effort. He allowed the four runs on five hits. He struck out three and walked three
Richmond regained the lead with a run in the sixth inning off of Pasquale. The Squirrels scored the go-ahead run on with two outs after Ryan Howard reached on a fielder's choice and Davis drilled a double to bring him home. Howard scored as he eluded the tag at home plate from catcher Daniel Salters.
Pasquale (2-2) suffered the loss in relief. He tossed 1.1 innings and allowed the one run on one hit. He walked one and struck out one.
Connolly settled in after the rough first two innings and retired the last nine batters he faced to earn the win. Connolly (2-2) struck out six and walked just one over four innings pitched.
Matt Lipka added some insurance with an RBI triple in the eighth inning. Lipka made it a 7-4 contest when he scored from third on a wild pitch.
Ruotolo earned the save and pitched two innings to end the game. He allowed just a two-out single to Salters prior to striking out Tyler Krieger to end the game.
The Squirrels and RubberDucks continue the four-game series on Sunday evening at 6:35 p.m. Recently signed RHP Taylor Hill will make his Giants organizational debut for Richmond against Akron RHP Shao-Ching Chiang (4-1, 3.25). Richmond returns home to The Diamond for an extended Memorial Day weekend celebration on Tuesday, May 29 with a Camo Cap Giveaway.
Comments