Squirrels comeback falls short: Three-game win streak snapped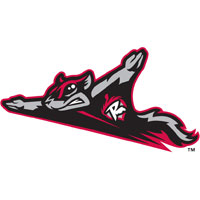 Trenton Thunder left-hander Ryan Bollinger lulled the Flying Squirrels through eight innings in a 6-4 win over Richmond on Saturday night in front of 8,473 fans at The Diamond. Richmond (19-15) rallied for three runs in the ninth inning and managed to bring the tying run to the plate before Kaleb Ort struck out pinch-hitter K.C. Hobson to end the game. The series and homestand finale is set for Mother's Day on Sunday afternoon at 1:05 p.m.
Trailing 6-1 in the ninth, Richmond's offense game to life, a bit too late. The Flying Squirrels ambushed reliever Andrew Schwaab, starting with a walk to Miguel Gomez. Gomez was erased on a fielder's choice and Luigi Rodriguez also worked a walk, placing runners on first and second. After Jerry Sands avoided a game-ending double play by eluding a tag at first base, John Riley rolled a base hit into left field for a 6-2 contest. Ali Castillo followed with a booming, two-run double into left centerfield, pulling the Squirrels to within two, 6-4. Schwaab was then replaced by Kaleb Ort who struck out Hobson to end the game.
The Thunder out-hit Richmond 13-5 in the effort and provided enough offense for Bollinger. The lefty Bollinger carved through the Flying Squirrels lineup in just his second career start at Double-A. The journeyman lefty kept Richmond off the board through the first seven innings. Bollinger retired 11 consecutive batters heading into the eighth, where he would incur his only blemish of the game.
Bollinger (2-0) earned the win with his longest outing in affiliated baseball. Bollinger allowed one unearned run on three hits. He struck out five and walked one on 94 pitches.
Flying Squirrels starter Garrett Williams scuffled with his control in a short outing on Saturday. Williams teetered on the brink of danger in the first inning, loading the bases on a pair of hits and a walk. With one out, Williams induced a groundball double play to end the threat and stem the tide.
Trenton pushed across a pair of runs in the third inning while leading Williams to his exit. Mandy Alvarez lifted a fly ball base hit down the right field line to open the inning and Bruce Caldwell followed with a single into right. Williams then walked Ben Ruta to load the bases and Chace Numata drove home the first run of the night on an infield groundout to short. Gosuke Katoh also drew a walk, leading to Williams' departure. Reliever Dan Slania entered with the bases loaded and allowed an inherited runner to score before Chris Gittens flew out to deep centerfield to end the inning.
Williams (1-2) lasted 3.1 innings and allowed two runs on five hits. The lefty walked five and struck out three while using 78 pitches in the defeat.
The Thunder moved ahead 3-0 with a run off Slania in the top of the fifth. Alvarez looped a double into right centerfield and with one out Bruce Caldwell connected on an RBI base hit to bring him home. Slania worked 1.2 innings and allowed the one run in relief.
Right-hander Ryan Halstead worked two scoreless innings to keep Richmond within reach, 3-0. Halstead took the game into the eighth where lefty Carlos Diaz took over. Diaz allowed three runs on three hits in the inning, highlighted by a Trey Amburgey two-run double.
Comments