Speaker-Designee Kirk Cox announces staff plans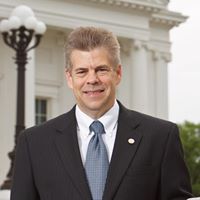 Virginia House of Delegates Speaker-Designee M. Kirk Cox announced his staff plans Tuesday, naming Matt Moran as Chief of Staff and Kelly Gee as Deputy Chief of Staff beginning in January of 2018. Colonial Heights native Zachary Wood will continue to serve as Cox's Legislative Assistant and Rick Oertel will continue to serve as Military and Veteran Affairs Aide.
"A strong team is important to organize a smooth transition over the next nine months, help lead our caucus, and make sure that we are ready to hit the ground running with Governor Ed Gillespie in 2018," said Cox (R-Colonial Heights). "I am fortunate to have talented professionals in Matt and Kelly. We will continue to build a professional operation to ensure that the Speaker's office can continue to effectively lead the House of Delegates and the House Republican Caucus as we govern our Commonwealth."
Moran will begin overseeing the Speaker's office transition effective immediately. Moran previously served as Communications Director for Ed Gillespie and as the Director of Policy and Communications for Speaker Bill Howell.
"Ed Gillespie will be the next governor of the Commonwealth of Virginia. I'm honored to have been part of that team and will continue to do everything I can to help," said Moran. "I am excited to return to the House to oversee a smooth transition from Speaker Howell to Speaker Cox. The next nine months are critical to laying the groundwork for when Ed Gillespie is governor. Kelly is a close friend and I couldn't be more pleased about the opportunity to work with her, Zach and Rick."
Gee has worked for Cox since 2012 in various roles, including as a Legislative Aide and most recently as Chief of Staff. Gee will continue serving as Majority Leader Cox's Chief of Staff through 2017. She is a graduate of the College of William & Mary.
"It's been a privilege to be part of the Cox team over the last five years and I am excited about the opportunity to continue that as we move into the Speaker's office," said Gee. "We have a chance to build on the accomplishments of Speaker Howell and the House Republican Caucus in the coming years. I look forward to working with Matt, Zach, Rick and the rest of the team on this critical effort."
Wood is a Colonial Heights native who graduated from George Mason University has served in Cox's office since 2016. Oertel, a retired Air Force Lieutenant Colonel, joined Cox's office in 2016 as well. Cox will name additional staff hires later this year.
Comments